Since the start of the pandemic, the nation has seen a spike in demand for at-home medical services. There is a growing aging population that does not want to go into long term care (LTC) or assisted living facilities and would prefer to receive care in their homes.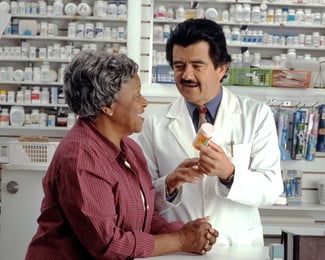 The medical at home model empowers patients with the freedom to stay in their homes, while getting the treatments they need. Independent pharmacies are uniquely positioned to help meet this growing demand. Pharmacists can offer consulting services, medication synchronization and other essential services in the comfort of their patients' homes. With more patients showing interest in medical at home services, NCPA wants to ensure that they can receive care from a local pharmacist without worrying about their insurance coverage.
Moving Towards a New Normal
According to a study done by AARP, nearly 80% of Americans aged 65 or older want to stay in their current residences instead of going to assisted living facilities or nursing homes. One of the factors influencing this trend is the high cost of living in long term care or nursing home facilities. There are many patients who cannot afford these types of living accommodations and opt for more affordable solutions to live independently at home.

Another factor influencing this growing trend is the pandemic. When COVID-19 first started spreading across the country, nursing home facilities were hit hard by the virus. According to the Centers for Medicare and Medicaid Services (CMS) data website that was last updated on March 7, 2021, there are approximately 641,608 confirmed COVID-19 cases in nursing home and assisted living facilities. CMS also reports that there are 130,296 confirmed COVID-19 patient deaths. These numbers are dynamic, which means that these numbers are likely higher now than when this report was last updated.

Many nursing homes shut down access to visitors to avoid spreading the virus and protect their patients. Despite these efforts, many nursing home facilities experienced major COVID-19 outbreaks. Some facilities are just now starting to relax their restrictions and allow patients to have family visits.

After observing how quickly coronavirus spread among the vulnerable population living in LTC facilities, it's no surprise that more people are interested in medical care at home. Not only does medical at home reduce the risk of catching a contagious disease, but it also allows patients more freedom to see their family and avoid feeling so isolated. As time progresses, we might see more patients preferring medical at home care to continued social distancing.
The Role of Independent Pharmacy
Independent pharmacies are positioned to help patients who want to stay at home. Unlike chain or mail order pharmacies, community pharmacies can provide care to communities that lack access to most healthcare services.

They can also offer home delivery, and even incorporate medical at home services for their patients. Giving patients quality care and personalized services is what sets independent pharmacies apart.
What NCPA is Doing...
NCPA knows that independent pharmacies are ready to offer medical at home services. Currently, NCPA is pushing for this service to be covered by CMS. With more patients asking for these services, independent pharmacies want to be able to help patients without them worrying about the cost.
CMS already covers similar services in nursing homes and long-term care facilities, but NCPA wants to make sure that medical at home is covered regardless of the location of the patient.
We applaud NCPA for their continuous efforts to improve patient health and wellbeing, while incorporating independent pharmacists into these roles. If you would like to learn more about NCPA's efforts, please visit their webpage.