RxSafe today announced a revolutionary new adherence packaging system. RapidPakRx™ is designed to help retail pharmacies do more, including:
Increase revenue by up to 24% in 1 year
Improve star rating and reimbursements
All-in-one design
Smallest footprint
20 bulk-loaded universal pill verification cartridges
Revolutionary 3-pass integrated vision verification system
Virtually no rework due to pill drop errors
PakMyMeds™ marketing program included
Expand your circle of influence from 10 miles up to 50 miles
Below are the first few paragraphs from the press release.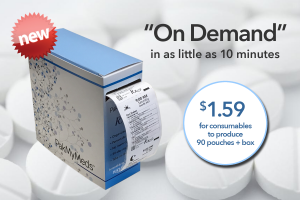 SAN DIEGO, CA, Feb. 16, 2018 — RxSafe, LLC has introduced a new automated strip packaging system for retail and health system pharmacies that enables on-demand adherence packaging production. The RapidPakRx (TM) system, with 23 cameras and three layers of integrated machine vision pill detection, verification, and inspection, helps pharmacies address the nation's medication adherence crisis. This issue leads to 125,000 preventable deaths and up to $300 billion in avoidable healthcare costs each year, according to the Journal of Managed Care Pharmacy.
RapidPakRx produces adherence packaging that organizes prescription medications into individual multi-med pouches. Each pouch is clearly labeled with pertinent information, such as medication name, day of week, date, and time of administration. The individual multi-med pouches make it easier for patients to remain adherent at home or on-the-go. According to BMC Health Service Research, 62% of patient non-adherence is self-reported as forgetfulness.
"RapidPakRx is an affordable, effective, on-demand adherence packaging system. Pharmacies can now offer their patients a product that meets their needs and improves patient adherence," says William Holmes, President & CEO of RxSafe. "No one else has ever attempted to build a 'pour and package' multi-med strip packaging system. I am proud of the game-changing technology that RxSafe is bringing to market."
Visit our RapidPakRx product page or view the full press release.