RxSafe offers many ways to expand your independent pharmacy's geographic reach and grow your customer base. One of those ways is utilizing the many features of RxSafe's medication adherence strip packaging marketing services, also known as PakMyMeds™. The PakMyMeds marketing services, together with RxSafe's RxASP system, can help you successfully launch a retail strip packaging adherence program in your independent pharmacy.
Medication Adherence Without Downtime or Errors
The innovative and accurate medication adherence automation technology that comprises the RxASP 20™ means no more trays or remote filling stations, no more downtime to load, and no more errors from hand filling trays. The RxASP 20 holds up to 20 RFID canisters (additional canisters can be stored nearby to be swapped in and out), while our universal RFID canisters dispense virtually all non-loaded, oral solid medications such as gel caps, half tabs, and more. Restocking occurs while the machine is fully functioning, so there is no downtime. Even cleaning is far less time consuming. In short, more things get done in less time, greatly enhancing pharmacy efficiency. The RxASP line of technology has the lowest daily operating costs in the industry—using automatic, variable packet length and consumable pouch materials that are notably the least expensive on the market.
Proven ROI at an Independent Pharmacy
Ben McNabb, an RxASP customer, is the owner of the independent Love Oak Pharmacy in Texas. He helped expand and improve his business by implementing the RxSafe RxASP system in 2016, which led to a 24 percent increase in revenues in a single year.
According to McNabb,"The improved ability to synchronize and to be organized has driven Love Oak Pharmacy's revenues and helped to increase its customer base."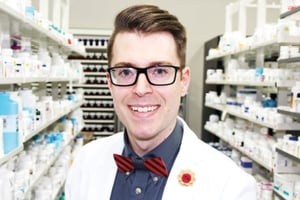 He states that many home health agencies are not being reimbursed for the time they spend filling at-home medicine organizers and are looking for solutions. By offering the RxASP adherence strip packaging as a free service, the patients receive their medications already organized for them at the beginning of each month, which is invaluable for them. Multiple home health agencies have switched their business to the Love Oak Pharmacy because of the packaging services it offers.
McNabb says that the pharmacy's revenue growth speaks volumes for the importance of the system. In May 2017, the Love Oak Pharmacy enjoyed a 24 percent year-over-year increase from the revenue the company brought in in May of 2016. He attributes a significant portion of this growth to adding the RxASP packaging system to his pharmacy. McNabb says the system helps from a customer service perspective because it is a tangible product that helps to attract new customers and to keep them.
Developing a marketing and adherence program is time consuming, particularly when the day-to-day operations of a busy independent pharmacy must be tended and patient care is the work of primary importance. That's why RxSafe's technology and customer support system is the choice of many independent pharmacy owners, like Ben McNabb. RxSafe has already designed a turnkey marketing and adherence program.
Adherence Packaging for Independent Pharmacies
PakMyMeds enables independent pharmacies to hit the ground running with a medication adherence strip-packaging program. By implementing several marketing activities in concert with a methodology RxSafe has already developed, independent pharmacies can begin enrolling existing and new patients to their adherence programs without delay. The PakMyMeds Kickstart Program offers three tiers of support that include several branding and customization choices. You can download the custom PakMyMeds Data Sheet here.
RxSafe would be delighted to discuss how our medication adherence strip packaging marketing services could assist you in adding an adherence program to your pharmacy's offerings. Don't wait! Begin expanding your geographic reach and customer base now. Contact us today at 877-797-2332.