Mitchell's Drug Stores, an independent pharmacy with several stores in the Neosho, MO area, is a success story that highlights how community pharmacies can go beyond a point-in-time, prescription-centric pharmacy model to become a more patient-focused and value-based healthcare provider.
Mitchell's owes much of its success to Flip the Pharmacy, a transformation program aimed at 'flipping' community pharmacy business models from being prescription-focused level to becoming longitudinal, patient-level models that better account for patient needs and scalability.

Flip the Pharmacy's 6 Domains of Transformation
Flip the Pharmacy is a 24-month transformation process that focuses on data-driven change across six 'domains' of transformation including:
Leveraging the Appointment-Based Model

– The Appointment-based model of care relies on the Medication Synchronization process. This is the first step in transitioning from a reactive, prescription-based care model to proactive long-term management of patients.

Improving Patient Follow-Up

–In contrast to other providers who may meet patients just once or twice a year, pharmacies can have more frequent interactions. This enables pharmacies to follow-up and monitor patients more efficiently in critical areas such as A1c or blood pressure checks.

Developing New Roles for Non-Pharmacist Staff

– Efficient patient care relies on utilizing support staff and the delivery of enhanced pharmacy services.

Using Technology and eCare Plans –

The proper use of technology by staff members and pharmacists, such as Electronic Quality Improvement Platform for Plans & Pharmacies (EQuIPP) to document patient encounters and monitoring prescription drug use, is essential to the transformation process.

Working Relationships with Other Care Team Members

– For patient to be effective, meaningful relationships and communication between all care team members must first be established.

Business Model Development and Value Added –

A pharmacy's transformation cannot continue without a sound practice and business model in place that enables participation in payment programs and performance measure improvements.
Pharmacists and Technicians Are More than Pill Dispensers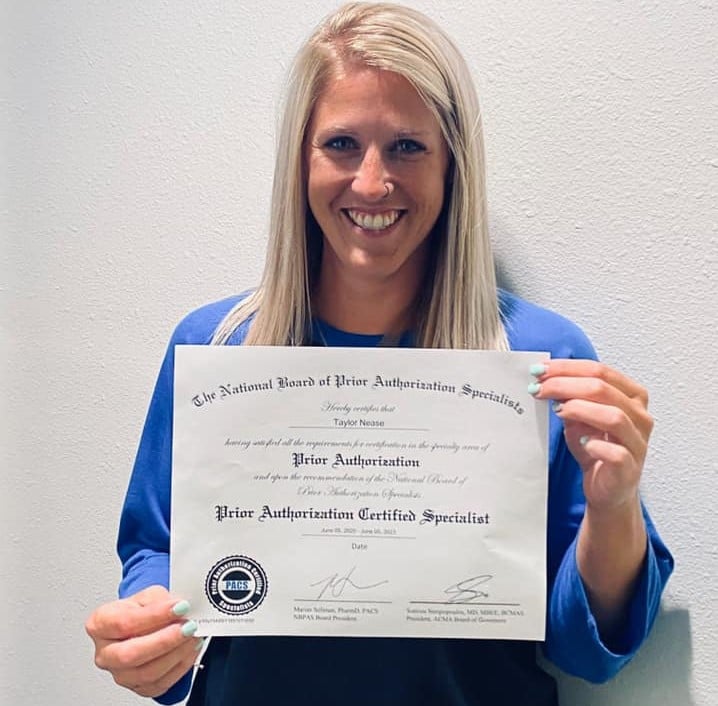 Taylor Nease, patient advocate and pharmacy technician at Mitchell's Drug Stores, showing off her prior authorization certificate. (Photo courtesy of the Mitchell's Drug Stores Facebook page.)
Flip the Pharmacy elevates pharmacy technicians from mere prescription fillers to patient care advocates. A perfect example is Taylor Nease, a pharmacy technician who has stepped up and evolved from merely dispensing prescriptions to becoming a "Patient Advocate," Nease's official title at Mitchell's Drug.
With Nease taking on more responsibilities, the pharmacy has become more proactive with patient care. As pharmacists have become more important and involved in taking care of their patients, pharmacy support staff have been increasingly called upon to provide services traditionally performed by pharmacists such as administering vaccines, coordinating care, and providing enhanced clinical services.
As an example, Nease helped a patient, who was on 15 different medications, align her refills through the pharmacy's adherence packaging program. Instead of wasting time delivering refills on different dates, the patient could get them on a single day. The result? Better adherence and a more streamlined delivery route.
Adherence Packaging Enables Scaling of Med Sync
At the core of Mitchell's Drug Stores transformation is an appointment-based model, which relies on medication synchronization or med sync.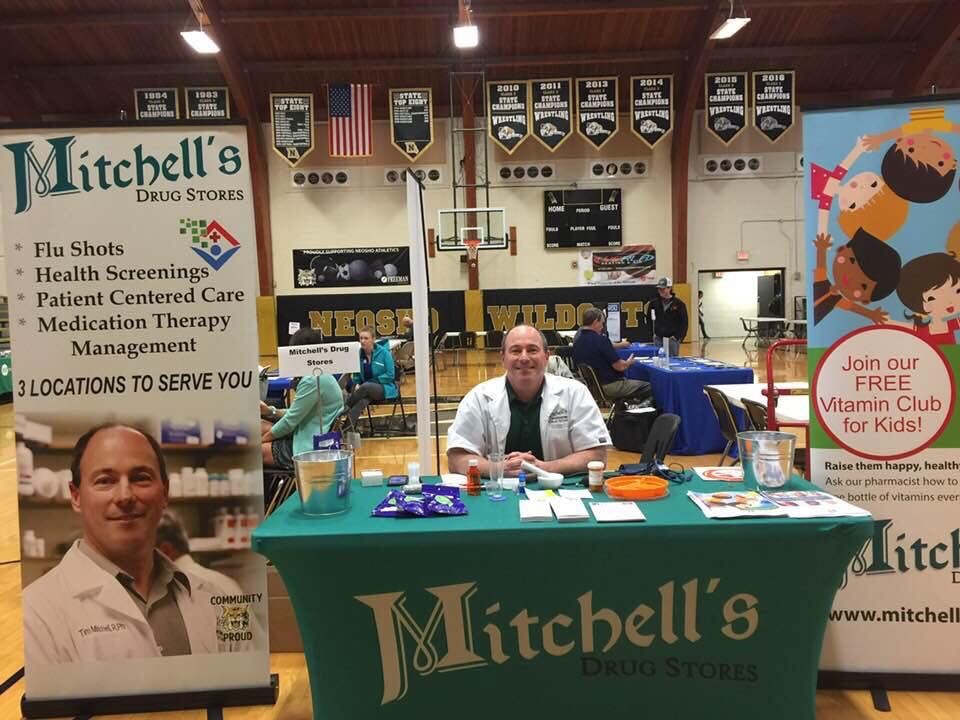 Owner and President of Mitchell's Drug Stores, Tim Mitchell. (Photo courtesy of www.mitchelldrug.com)
The easiest and most effective way to implement a med sync program is with adherence packaging.
Mitchell's Drugs scaled their med sync program using RxSafe's RapidPak strip packaging machine, growing it from 25 to 220 patients. By offering adherence packaging, overhead costs decreased, workflows were streamlined, and adherence rates improved.
Owner Tim Mitchell believes that the new model has empowered his staff - pharmacists and technicians - with a "completely new mindset" toward the goal of providing better patient care. "Flip the Pharmacy has totally changed our team's mindset by allowing us to be proactive, not reactive," Mitchell states.
Flip the Pharmacy Sponsors
Flip The Pharmacy, sponsored by the Community Pharmacy Foundation, is comprised of over 1,000 community pharmacies, 450 pharmacy coaches, and 63 local Flip the Pharmacy teams.
RxSafe is currently sponsoring four teams in Nebraska, Ohio, Wisconsin, and GATE (Greater Appalachian Transformation Effort) throughout a 24-month period. For more information and available resources, visit Flip the Pharmacy's webpage here.