The medication discrepancy rate for discharged hospital patients is extraordinarily high, with 12.5% of discharged patients having adverse drug events that required readmission. Implementing bedside delivery can improve outcomes, but it's still not enough. RxSafe offers a different approach to hospital bedside delivery using adherence packaging.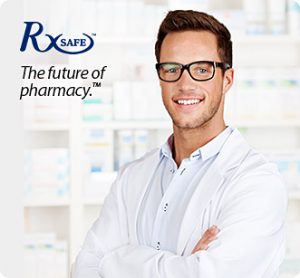 Hospital Bedside Delivery Background
According to a 2003 study in the Annals of Internal Medicine, 12.5% of patients discharged from hospital to home had adverse drug events that required readmission.[1] Bedside delivery programs are designed to increase patient medication compliance through pre-discharge counseling.
Implementing bedside delivery benefits patients by saving them a trip to an outside pharmacy, educating them on their medication regimen, and taking care of prior authorizations before patients are discharged. Providers capture more revenue, develop long-term relationships with patients, and improve HCAHPS ratings.[2]
However, even with measurable improvements in patient outcomes, medication discrepancies still persist at an average rate of 0.86 per bedside delivery patient, with omitted medications as the highest frequency discrepancy type.[3] The cost of these discrepancies to patients, providers, and payors is $300 billion per year according to some estimates.[4] This is a drag on the entire health care system, and demands attention from all stakeholders.
Adherence Packaging Fills the Gap
Reducing or eliminating medication discrepancies via bedside delivery programs can be done, and the key driver of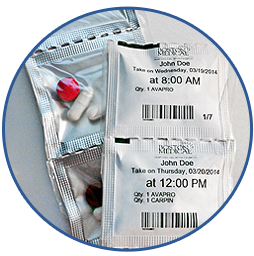 improved outcomes is the use of adherence packaging. Combining short cycle unit and multi-dose dispensing with bedside delivery is a powerful combination of proactive measures that will improve patient outcomes.
In this model, each patient receives a medication strip, with individual doses in individual pouches. These pouches are clearly marked with the date and time of administration, and the medication that they contain. All the patient needs to do is tear open the pouch at the right time and take the contents.
Coupling an adherence packaging program with bedside delivery is an effective approach to take advantage of the discrepancy reduction benefits of both approaches. It also offers patients a service that they may not readily receive elsewhere, which reinforces the patient's relationship with the care provider and encourages a long-term relationship.
Setting Up an Adherence Packaging Program
In order to implement an adherence packaging-based solution to discrepancy errors in bedside delivery programs, pharmacy automation is required. Automated strip packaging fulfillment is cost-effective when it has the following features: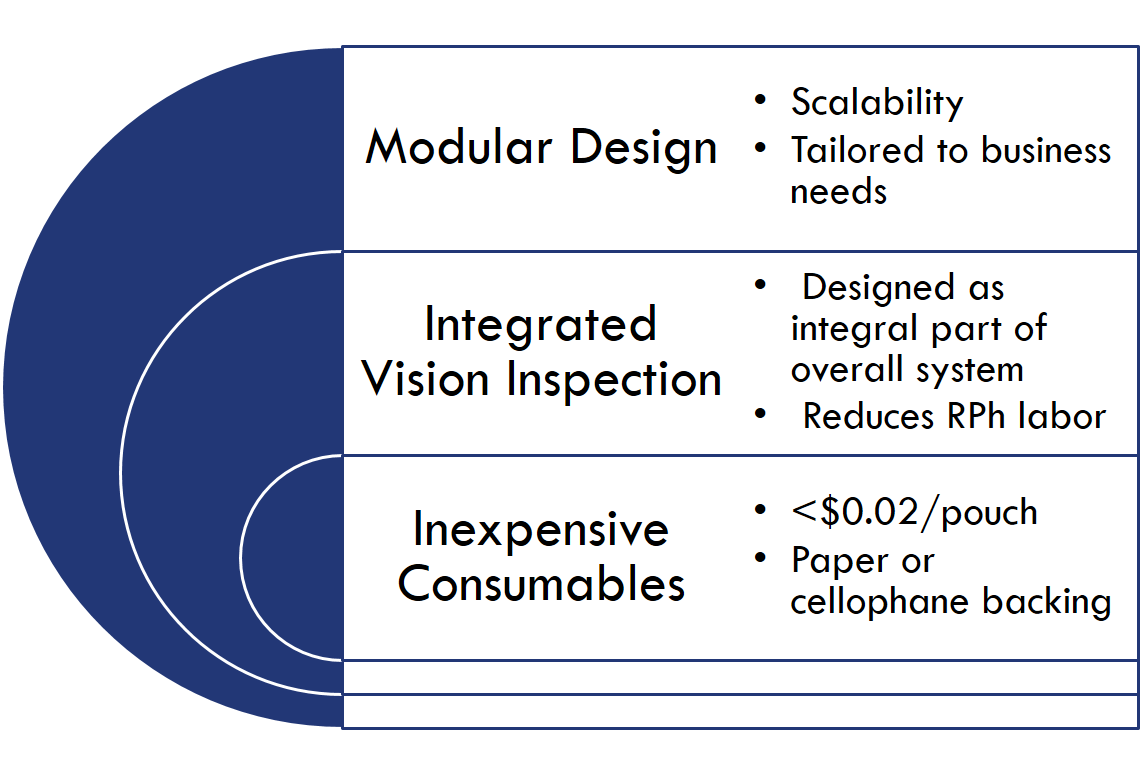 RxSafe's RxASP™ product line meets all of these requirements, and is the first adherence packaging automation system to incorporate robotic cassette handling.
With industry-leading throughput of up to 300 pouches per minute, modular design, and optional integrated vision inspection, this system is an attractive option for acquisition for any hospital looking to make an impact in pharmacy services and long-term patient wellness.
Focus on the Future
With the wide availability of state-of-the-art adherence packaging technology, the barrier to entry into bedside adherence packaging delivery is decidedly lower than it was even five years ago. Hospitals can improve patient outcomes and reduce medication discrepancies post-discharge without a massive capital investment.
Since adherence packaging technology has been proven to reduce discrepancies in multiple clinical studies, its adoption by hospitals should be a natural fit in the overall drive to keep long term relationships with patients and improve their well being.
[1] Forster, Peterson et al. "Incidence and severity of adverse events affecting patients after discharge from the hospital." Ann Intern Med 2003;138 (3) 161- 167
[2] O'Connell et al. "Creating a Hospital Based Bedside Delivery Program to Enhance the Patient Experience at Cleveland Clinic's Community Hospitals." ASHP 2013 Midyear Clinical Meeting
[3] Forster, Peterson et al., 162.
[4] L. Osterberg and T. Blaschke. "Adherence to Medication," New England Journal of Medicine, August 2005 and M.R. DeMatteo, "Variation in Patients' Adherence to Medical Recommendations: A Quantitative Review of 50 Years of Research," Medical Care, March 2004.