Dear readers: last month we launched a blog series on business transformation in a community pharmacy setting. Our first article was a primer on "what is pharmacy transformation," as RxSafe sees it. Because this topic is so rich and nuanced – in other words, it may look very different from one pharmacy to another – we are going to spend the next several months giving you snapshots of different pharmacies, and how they're transforming not only their businesses but also the health of the communities they serve. In this way, you'll get a close-up look at the 'multifaceted jewel' that is pharmacy transformation, through the lens of real pharmacies (and their owners) presented as mini-case-studies. Let's dive in!
Adherence, Texas-Style
Medicine Shoppe Pharmacy #0708, located in Sherman, Texas, has been a staple of the community since 1984. Pharmacist and owner Jana Bennett, an RxSafe customer for nearly a decade, said her drugstore started its compliance packaging program in 2016, by hand-filling blister cards.
"Before we started the transformation program, we had about 75 patients on compliance packaging," says Bennett. "We were adding just a few patients per month. It took us about four years to get to 75 patients, so it was a very long, slow process.
Bennett says it was difficult to scale and promote blister packaging.
"We did some in-store advertising. We did some bag clippers. We had a little link on our website with some information about it, and we did a few things on Facebook," Bennett recalls. "We didn't really have a good method of getting people interested in packaging at that point."
A Shift in Perspective
Everything changed when Bennett shifted her perspective on marketing. To create word-of-mouth and a smoother process for new patient onboarding, Bennett was told she'd have to begin by promoting adherence marketing to her existing patients.
"I was like, 'sure, we'll try anything,' but I remember thinking it's not going to work," Bennett says. "It's just another marketing plan that's going to fail, because they all fail. They just do. So I was skeptical, but I was like, okay, I'll give it a try."
Bennett's willingness to keep trying paid off. In fact, through this 'perspective shift' – along with employing some other, smart marketing tactics -- she was able to more than double the number of her patients on adherence packaging in just a few months' time.
"I would recommend that you reach out to your existing patient population first. And this wasn't my original thought. When I first got the robot, I was like, 'Oh, we've got to get all these new patients to pay for this thing.' Well, that didn't really work," explains Bennett. "It's so much easier to reach out to your current patients. It doesn't cost hardly anything and they already trust you. And if you have some hiccups along the way because you're new at packaging, it's much easier to go with your current patients."
Word of Mouth: It Works
Through the program, Bennett also realized how valuable existing patient referrals can be for word-of mouth marketing.
"Word of mouth is a big deal. In fact, I remember one lady that we had as an existing patient. We had texted her to see if she was interested in packaging," Bennett says. "And she was like, 'Yes, and I'm bringing three people with me.' So she did. We did four appointments all at once with those four ladies and got all of their business. So word of mouth is still your best advertising for sure. And it's definitely true with packaging."
Here are a few steps Medicine Shoppe #0708 took to modernize its approach to patient engagement and local marketing.
The store's website (https://sherman.medicineshoppe.com) now tells patients how adherence packaging will make it easier for them to manage multiple medications, including a video explaining "How it Works."


Bennett is also using video to directly communicate with prospects through social media including Facebook (@myfavoritepharmacy), Instagram (@jbennettrph) and TikTok (@thecommunitypharmacist); https://fb.watch/7ET6JDMnVq/.


RxSafe's Business Transformation team also paid Bennett a visit, and accompanied her to meet with representatives from local long-term care, assisted living, home health and other institutional healthcare businesses near her drugstore, which is about an hour north of Dallas.
Coaching: One-on-One and Peer-to-Peer
Bennet also enjoyed weekly calls with her Business Transformation coaches and other pharmacists who are on the same journey.
"One of the best parts of the program is the weekly call with the other pharmacists. They're all in other states doing their own things," Bennett adds. "What we have in common is the compliance packaging. So our calls originally started with that: how do we grow that business? But as the weeks have gone on, we talk about all kinds of stuff, we work on all kinds of things together."
Bennett's adherence program continues to rapidly grow, and she's been able to add approximately 10 new patients to adherence packaging every week. The average number of prescription refills for her patients has also increased from 7 to 12 times per year. Plus, Bennett has found that a typical patient on med sync averages about six scripts a month, while a packaging patient averages about 9.5 scripts a month.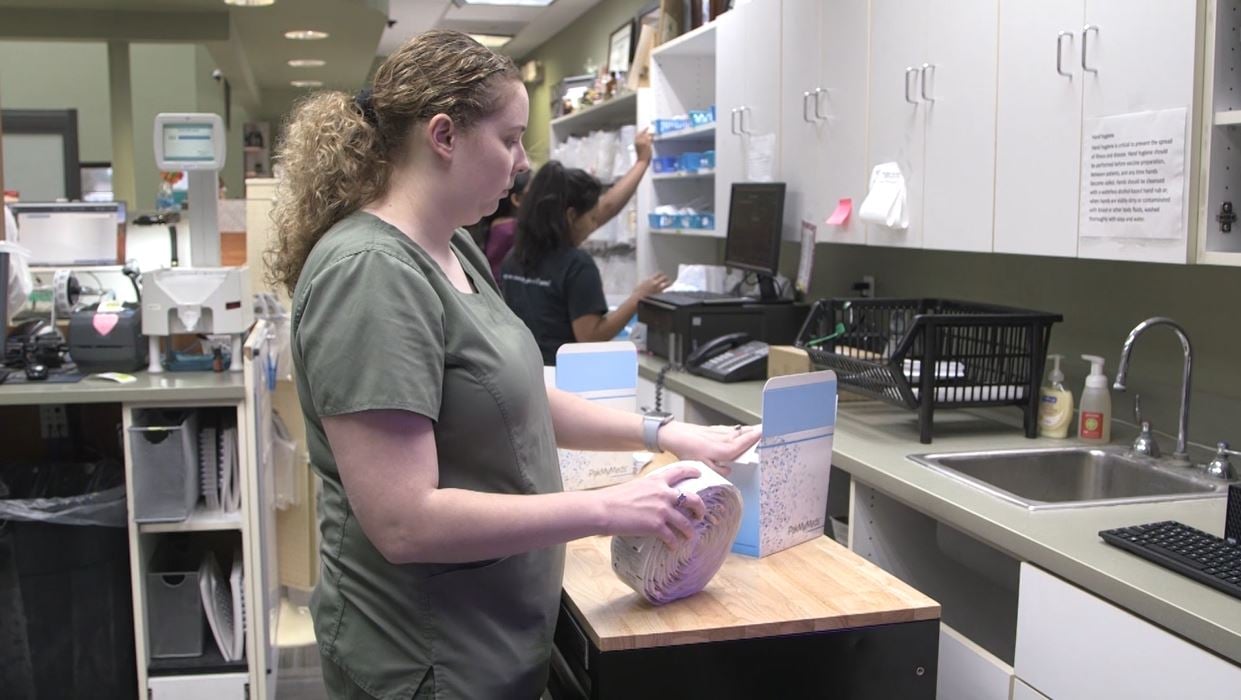 "I think that is because we're getting everything; we're making sure that they're not missing anything," says Bennett. "It makes you wonder about those other patients (not on packaging). Do they really not take as much medicine? Or are they just not adherent? So that's where we see the big difference is the number of scripts that those patients are getting. And they're getting them every month, not just seven fills a year.
Finally, Bennett says that not only are the packaged patients more adherent, they also generate more profit for her pharmacy. The average patient on packaging generates about $99 in profit per month, pre-rebate, according to Bennett. If you extrapolate that profitability to her store's current patient population, it's about $240,000 a year in profit, just from the patients that are on packaging.
"I think strip packaging will transform the way we do business," says Bennett. "Our goal obviously would be to get almost everybody on strip packaging. Get rid of the vials – get everybody synced, because when you have a sync program, you can manage your workflow a lot better than if you don't. You can plan. You know how many scripts are going to drop today into your queue."
Bennett says she has learned a lot – and is still learning – from the Business Transformation program.
This whole program is providing a deeper dive into your business. And you're learning things … you thought you knew everything about your business, but you don't," says Bennett. "There are some things that, you've done a certain way for so long, that you don't even realize what's really going on. And I'm excited just to keep learning all these different things."
Tune in next month, when we'll share more from pharmacy owners about their business transformation experience.
Can't wait for the next blog post? Give us a call at 833-791-1772 and ask for the Business Transformation department.