When it comes to a person's health, second best simply isn't good enough. This is why RxSafe offers only best-in-class pharmacy adherence packaging. A medication imaging system is a vital component of any pharmacy automation system. The right imaging system can save many hours every week, freeing up time for pharmacists and techs to help more patients. Most importantly, a vision inspection system must be extremely accurate.
The RxASP vision inspection system, PakCheckRxTM, offers real time inspection of medication pouches. There is no need for a secondary machine (and a second workflow step) or an additional technician to get this important job done. The system can inspect pills, gel caps and tablets with ease. It is also easy to use. In fact, the PakCheckRx "learning curve" is so short that the system can be up and running in just a few hours.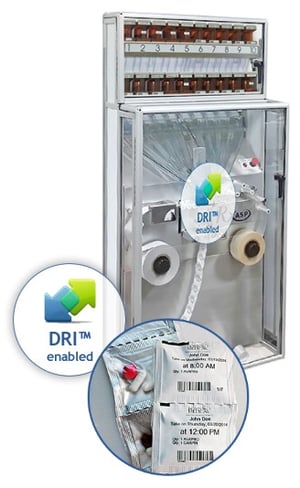 The PakCheckRx is a single, integrated production unit. Our built-in vision inspection system is simpler and less expensive to use than other models, and takes less energy and less space than other units. Our customers have also found that the PakCheckRx is significantly less expensive than all other vision inspection models.
Features of PakCheckRx include:
Easy to use

Excellent accuracy

The ability to detect gel caps

Practically eliminates human error

Made in the USA
We know our equipment is top of the line. To prove this, we offer a comparison to the other top-selling vision inspection devices on the market. Competing companies import components from other countries, made by different companies, and try to make them work together. This "mix & match problem" means their devices are not as user friendly, do not have the ability to detect gel caps, and are more expensive than PakCheckRx. Likewise, those devices require much more time, both in training and in usage. And, while all of our competitors provide some form of quality assurance, none can match the benefits offered by RxSafe.
Your patients deserve quick and accurate care, which can only be provided by top of the line equipment. When you consider the amount of time your staff puts into inspecting pill packets for accuracy, you intuitively know this is time that could be better spent on more profitable services.
If you want to learn more about how RxSafe equipment can work for your pharmacy, contact us at 877-797-2332. We will talk to you about your needs and your budget. After learning about your pharmacy's needs, we can make recommendations and answer your questions about our technology.
Don't have time to call? Simply complete our online form and one of our representatives will get in touch with you.