RxSafe recently announced a partnership with UK-based Centred Solutions, Ltd to deliver adherence strip packaging automation to the European pharmacy market. Under the agreement, Centred Solutions becomes the exclusive distributor of RapidPakRx™ in the United Kingdom and the rest of the European Union (EU). RapidPakRx enables pharmacies to run a 30-day med cycle at the lowest possible cost, producing single or multi-med pouches with unprecedented accuracy and efficiency.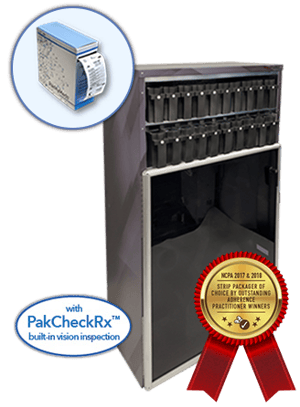 "RapidPakRx provides unparalleled adherence packaging automation because of its 'smart' bulk-loaded universal cartridges and extremely accurate built-in vision inspection," says William Holmes, President & CEO of RxSafe. "Centred Solutions is the ideal partner to bring this technology to European pharmacy customers."
The only adherence strip packaging system designed specifically for retail pharmacy, RapidPakRx enables pharmacies to custom package patient medications, sorted by day, date and time. The system requires no "exceptions" trays and no remote tray filling stations, meaning better accuracy and speed, dramatically reduced errors and very little rework.
Click here to view the full release.