Each year, the Texas Pharmacy Association (TPA) recognizes pharmacy leaders who strive to improve patient healthcare and expand their role as a pharmacist. There are a total of 9 different award categories -- including the TPA Excellence in Innovation Award.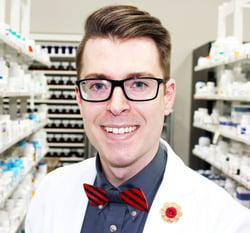 RxSafe would like to congratulate Ben McNabb, pharmacist and owner of Love Oak Pharmacy, for winning the 2020 TPA Excellence in Innovation Award. McNabb is known for being a leader in the independent pharmacy industry, implementing innovative ideas to improve the healthcare experience of his patients.
Since acquiring Love Oak Pharmacy in 2015, McNabb has initiated several new programs -- including a medication adherence program. McNabb believes that his success can be attributed to his strategy of differentiation. Identifying what competitors are doing, and searching for a better alternative for patients, is what fuels McNabb's hunger for innovation.

"I cannot think of a more deserving recipient of the TPA Excellence in Innovation Award,"
says William Holmes, founder and CEO of RxSafe. "Ben's incredibly innovative thinking is largely responsible for our RxSafe marketing program aimed at assisting new RapidPakRx owners with growing their businesses and greatly improving patient outcomes."

McNabb has been an RxSafe customer since 2016, and originally started with the RxSafe 1800 automation system. After that, he added strip packaging technology. Prior to the addition of the strip packaging automation system, Love Oak Pharmacy had zero patients on med sync -- today that number exceeds 500 patients on med sync and adherence packaging, powered by RapidPakRx™. Today, Love Oak Pharmacy is equipped with both the RxSafe 1800 and the RapidPakRx.
"No matter what the topic, Ben always finds time to offer guidance when other independent pharmacy owners are trying to improve patient care and stay one step ahead of big-box stores and pharmacy chains," says Holmes. McNabb is also the recipient of the NCPA 2018 Outstanding Adherence Practitioner Award, which highlights his unwavering commitment to ensuring 100% compliance among his patients. RxSafe is excited to see Ben McNabb continue to make his mark on the independent pharmacy industry.