Have you heard the news? PBMs are now in the adherence business.
UnitedHealth Group, the largest health insurer in the U.S and parent company of OptumRx, just acquired DivvyDose for approximately $300 million. DivvyDose offers pre-sorted prescription packages delivered directly to patient homes -- and is now in direct competition with Amazon's PillPack.
"DivvyDose, like PillPack, is going after your local community pharmacy patients," says William Holmes, Founder & CEO of RxSafe. It's clear that there is a substantial, growing demand for pouch packaging… it's not a 'fad' in any sense of the word."
One thing is certain -- adherence packaging is not going away anytime soon. DivvyDose and PillPack know that there is a huge growth market for new patients who want pouch packaging.
Innovative pharmacy leaders are discovering this emerging market -- and offering better adherence pouch packaging services than the giants.
How will DivvyDose impact the pharmacy industry?
When Amazon acquired PillPack, the pharmaceutical industry did not know what to expect. Pouch packaging was a new service that was just starting to gain momentum. Even after the acquisition, some pharmacy owners were uncertain about the longevity and success of offering a pouch packaging program.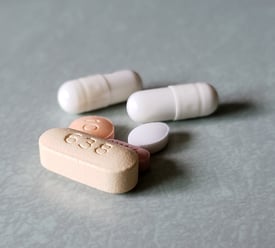 Here's the reality -- with the acquisition of DivvyDose by a PBM giant, adherence pouch packaging is here to stay for a long time.
"More than 75 percent of patients looking for adherence packaging currently receive their meds in vials from retail chains or mail-order sources," says Holmes. "The sad truth is, in most cases, these inquiring patients cannot consider independent pharmacies as a provider of pouch packaging because independent pharmacies do not offer pouch packaging."
Adherence pouch packaging will become the norm, and independent pharmacy owners who don't offer the service may feel left behind. Patients will be more likely to request assistance with their medications, and adherence pouch packaging will become the popular choice. More patients will transfer their prescriptions to pharmacies that do offer adherence packaging.
Can independent pharmacies compete with PillPack?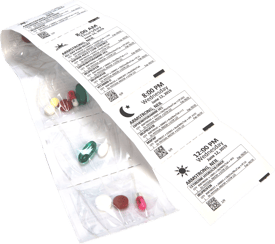 Many pharmacies are already feeling the pressure from PillPack, so a new giant entering the adherence packaging game might sound like bad news.
But the news isn't all bad. Independent pharmacies can actually leverage a competitive edge that mail-order pharmacies can't offer -- personalized healthcare.
Independent pharmacists better understand individual concerns and can address questions immediately for patients on adherence pouch packaging. One of the biggest complaints that mail-order patients express, for example, is the lack of human connection behind their prescriptions. They often have to wait long periods of time on the phone to connect with someone, and by the time they communicate any med changes, their prescriptions have already been shipped.
An independent pharmacy can process medication changes much faster, and provide genuine advice to their patients.
In addition, mail-order patients are constantly concerned about medication theft. If their medications are not delivered, they must wait until their medication gets shipped again. By then, they have already fallen off track with their adherence. An independent pharmacy can offer delivery or pickup services, and personally verify that the prescriptions were successfully received.
How do small pharmacies compete with retail giants?
It's not too late to beat PillPack and DivvyDose.
If you're not offering adherence pouch packaging, right now would be the best time to invest in automation for your business. PillPack and DivvyDose will continue to grow the interest of adherence pouch packaging, but will lack the superior customer experience that independent pharmacies can deliver.
Want to be the first to market this service in your area, and help your patients become more adherent.? Not sure what automation to choose? The RapidPakRx is a great option for pharmacies that want to remain competitive and grow their business. The RapidPakRx can complete packaging for up to 50 patients per day, using only one technician in an 8-hour shift. Implementing the system into your workflow can reduce labor costs, while maximizing your profits.
To learn more about the RapidPakRx, please visit our product page or speak with an adherence expert at (877) 797-2332.