McDowell's Pharmacy in Scotland Neck, NC, has been in business since 1901. Not only is the pharmacy known for being a local fixture, but owner Thomas McDowell, PharmD, says his drugstore is the most accessible source of healthcare in the rural community of about 1,500 residents.
"I'm a fourth generation pharmacist here at McDowell's. My great grandfather bought our pharmacy in 1922, and we strive to treat our patients like they are family," says McDowell. "We have known a lot of our patients for 50, 60 years. Their parents or even their grandparents were coming to our pharmacy. So it's been a generational thing, where we've had the privilege to take care of so many different members of our community."
Click to watch Thomas McDowell explain how the RapidPak brings value to his pharmacy.
For years, the pharmacy had been struggling to manually fill compliance packaging for its patients. In the spring of 2020, McDowell realized the pharmacy's adherence program had reached its limit. McDowell was considering hiring another pharmacist to be able to add more patients to its program, called the "Mac Pack." Our previous process was very manual, very tedious, and we were having trouble scaling that up to the volume that we wanted to reach in our adherence packaging program," says McDowell. "I was verifying a lot of the packaging myself, and it was really preventing me from working on the business when I was tied down so much, manually verifying and packaging those patients. We realized the manual way was not working, and we wanted to take that next step to automation."
COVID-19 Didn't Stop Them…
Click the video above to watch testimonials from McDowell's Pharmacy patients.
"We actually purchased our RapidPakRx right it at the beginning of the pandemic, and we felt like it was a really important, game-changing time for us to differentiate ourselves, and also become the resource that our community needed to scale up our Mac Pack program and be able to package more patients with the RapidPakRx, and then deliver the Mac Pack to their door, all during a very chaotic and challenging time," says McDowell. "We definitely feel like the RapidPakRx has given us a competitive and unique advantage against a lot of the competition."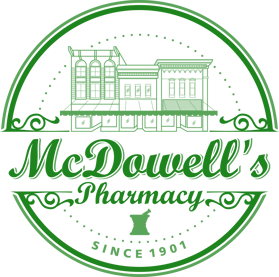 Not only did the RapidPakRx help McDowell's to differentiate itself and grow its packaging program more rapidly, it also saved pharmacist and technician time, giving staff the ability to focus on high-value tasks.
"The RapidPakRx has transformed our workflow by allowing us to take a proactive approach to our pharmacy practice. We are reaching out to patients ahead of time and adding them to the Mac Pack program with the RapidPakRx," McDowell says. "And we are filling prescriptions ahead of time, instead of having a reactive approach, which cuts down on our labor, cuts down on our time, and makes us much more efficient."
Supplement Packaging "Invaluable" to Pharmacy
Adherence packaging with RapidPakRx has also enabled McDowell's to expand its profitable supplements line of business.
"The profitability of our supplements and vitamins, being able to add that layer to our automation to our packaging program with the RapidPakRx and our Mac Pack program has been invaluable," McDowell says. "We know what we're getting paid. There are no DIR clawbacks on the back end. We're really excited to continue to grow in that aspect of our program."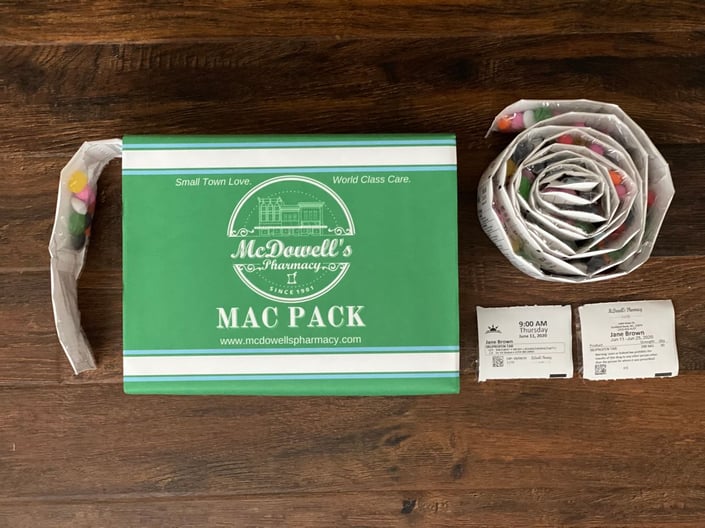 McDowell's Pharmacy Mac Pac
McDowell said the pharmacy will package monthly supplements for patients, even if they don't take any prescriptions. He added that immune support packs were popular throughout the pandemic, and still continue to sell well.
McDowell's has also become more profitable by adding prescription volume, while at the same time reducing DIR fees caused by patient noncompliance.
"We're getting one to two more fills out of patients every year, while we're improving their adherence at the same time," says McDowell. "The RapidPakRx system has allowed us to vastly improve our Star Ratings, which leads to less DIR fees and more profit for our business."
It's About Transformation
One benefit of the automation's time-saving functionality has been helping McDowell's to deepen relationship with patients.
"The RapidPakRx has transformed our pharmacy and allowed us to completely embody our model of serving our community," says McDowell. "All of our pharmacists went to school to help people, to interact with patients. The automation allows us to serve our patients more closely and really be there for them, and not have to spend so much time in the background completing jobs manually, verifying packages. It has allowed our pharmacists to practice at the top of their license on a daily basis and deepen the relationships that we have with our patients.
And freeing up that time for our pharmacist has enabled us to spend more time implementing new clinical services and new revenue streams that go along with our Mac Pack adherence packaging program," McDowell says.
Thriving Into The Future
Another benefit of the pouch packaging automation, which McDowell said was unexpected, was relief for Scotland Neck's caretakers.
"It's allowed them to spend more quality time with their loved one, and less time keeping up with their medications," explains McDowell. "We're able to manage their regimen for their loved one, and that's been an extremely beneficial aspect of the system as well."
Even though the pharmacy has been in the community for 120 years, McDowell said his pharmacy team prides itself on being progressive.
"We did feel like the RapidPakRx was something we needed to progress into the future as a longstanding pharmacy," Thomas concludes. "We wanted to keep our small town charm, but also stay innovative and bring value to each and every one of our patients."
If you would like to learn more about the RapidPakRx, please visit our product page or call an adherence expert at (877) 797-2232.