RxSafe is excited to announce its participation as the Grand Event Sponsor at the upcoming 2017 PDS All-Star Super Conference held in Orlando, Florida from February 23-25. This annual event helps independent pharmacy owners win at profitability—even in an unfair game.
Increase profits with automation
One of the fastest ways to increase profits in an independent pharmacy is through the use of automation. The term "automation" previously referred to vial-filling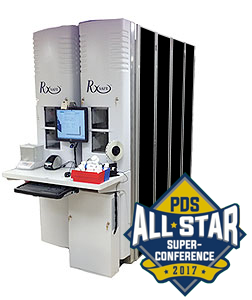 pharmacy robots, exclusively, but better automation options are now available to independent pharmacy owners. Here at RxSafe, we help independent pharmacies increase profits by improving accuracy and speed, providing narcotics security by tracking and securing drugs, maximizing retail space with space saving solutions, and automating inventory management to save both time and money. The RxSafe 1800™ system allows retail pharmacies to realize the enormous potential of pharmacy automation technology. By combining automated dispensing with comprehensive inventory and workflow solutions, we've created an all-in-one system that will help any independent pharmacy reach its bottom line goals much faster and with fewer staff hours.
PDS is the conference to attend for independent owner/operators who are motivated to approach their business with an entrepreneurial mindset. Increasing profits and improving operations is very possible as a small pharmacy. The 2017 PDS Conference offers a wide variety of the training, resources, and networking for a small independent pharmacy to learn how to succeed and compete with larger retail pharmacies.
Here's what you can expect to get out of the 2017 PDS All-Star Super Conference:
Learn how to take advantage of opportunities to increase profit margins
Learn how to combat threats to the independent pharmacy business model and stay in the game for the long haul
Listen to other independent pharmacy owners and PDS members to learn how they succeeded last year in becoming more profitable
Network with leaders in the pharmacy industry
Who is PDS?
Pharmacy Development Services (PDS) was founded in 1998 by Dan Benamoz, RPh. PDS is the leading provider of business development strategies and data analytics for independent pharmacy owners. Since PDS is the only company of its kind that has a dedicated R&D team, they are able to provide their members with solutions, programs, and trainings that can help improve an independent pharmacy's bottom line.
Meet the RxSafe team at PDS
Interested in meeting the RxSafe team at PDS and finding out how we can help you achieve your goals? Plan to attend a presentation by William Holmes, the founder and CEO of RxSafe called, "Winning with Automation: 4 Keys for Improving Profitability" to be held the first morning of the 2017 PDS All-Star Super Conference. You can also drop by booth #100 to learn more about our cutting-edge pharmacy automation technology and how it can help your independent pharmacy succeed. If you can't make it to the conference but want to learn more about increasing your profits with RxSafe, call us today at 877-797-2332.