Over the years, independent pharmacy owners have faced a growing number of challenges. PBMs, increasing DIR fees, and shrinking reimbursements continue to hurt community pharmacies.
The coronavirus outbreak only amplifies these problems for many pharmacy owners. With lobbies still closed, and physicians restricting office visits, reaching new patients is a big challenge.
What can independent pharmacy owners do to remain competitive?
RxSafe is sponsoring a brand new webinar, "How to Remain Competitive During COVID: Pharmacy Owners Weigh-In," to bring you actionable strategies to help your pharmacy remain competitive despite the environment created by COVID-19.
The 'New Normal' of Pharmacy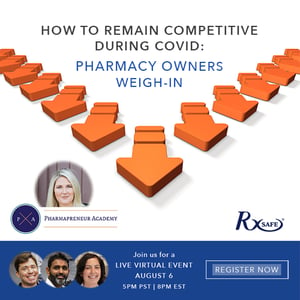 Across the country, pharmacy owners are asking the same question -- what will the 'new normal' of pharmacy be?
Our live webinar will highlight the experience of three independent pharmacy leaders, currently overcoming the hurdles created by the pandemic. Blair Thielemier, founder of Pharmapreneur Academy, will lead an interactive discussion designed to inspire pharmacy growth.
Our panelists will discuss the strategies they have implemented to remain competitive, and how they are preparing for the 'new normal'.
We are excited to have Chandra Patel, Jennifer Shannon, and Joe Williams join us on our panel of independent pharmacy experts. They will discuss the importance of adapting your competitive strategy to the new challenges facing the industry today.
Don't miss out. To register for our free webinar, "How to Remain Competitive During COVID: Pharmacy Owners Weigh-In," please click here.
About Our Panel

Our host, Blair Thielemier, PharmD, is an MTM consultant pharmacist specializing in pharmacy billing models. She consults on and produces e-learning programs for state and national organizations, pharmacy wholesalers, payers, and technology start-ups. She has books and online courses available for individuals looking to leverage their pharmacy knowledge into monetized clinical programs at PharmapreneurAcademy.com. She speaks internationally about trends in leveraging pharmacists to improve value-based care.
Chandra Patel, PharmD, graduated from USC School of Pharmacy in 2005. Passionate about helping patients and independent pharmacy, Patel opened his first pharmacy in Palm Springs, California in 2011. A few years later, Patel and a business partner opened a home infusion pharmacy in the same area in 2014. Today, Patel continues to work towards expanding his business, adding more locations and branching into compounding pharmacy.

Jennifer Shannon, PharmD, became the proud owner of Lily's Pharmacy in 2013. Located in Johns Creek, Georgia, Lily's Pharmacy's mission is to be John Creek's most trusted neighborhood pharmacy. Shannon, who is Board Certified in Pharmacotherapy, is committed to providing patients a unique expertise in disease-state management in a family-friendly setting.

Joe Williams, PharmD, purchased Brisson Drugs in 2015. Williams obtained his MBA and Doctorate in Pharmacy from Campbell University in 2011. As an owner of three independent pharmacies in North Carolina, Williams continues to demonstrate a history of success in community pharmacy. Williams also works as a Principal Consultant for Indy Rx Consulting, coaching other independent pharmacy owners to success.