Congratulations to Ghada Abukuwaik, pharmacist and owner of Curemed Pharmacy in Clifton, N.J., the 2019 recipient of the NCPA Innovation Center's Outstanding Adherence Practitioner Award. She was presented the award on Sunday at the National Community Pharmacists Association's 2019 Annual Convention in San Diego.
Abukuwaik received the award in recognition of her commitment to improving medication adherence. Her pharmacy began providing medication synchronization services in 2015, a program now described as core to the pharmacy's practice. 424 patients are currently enrolled in the med sync program and their adherence measure rates are well above 80 percent, the industry standard.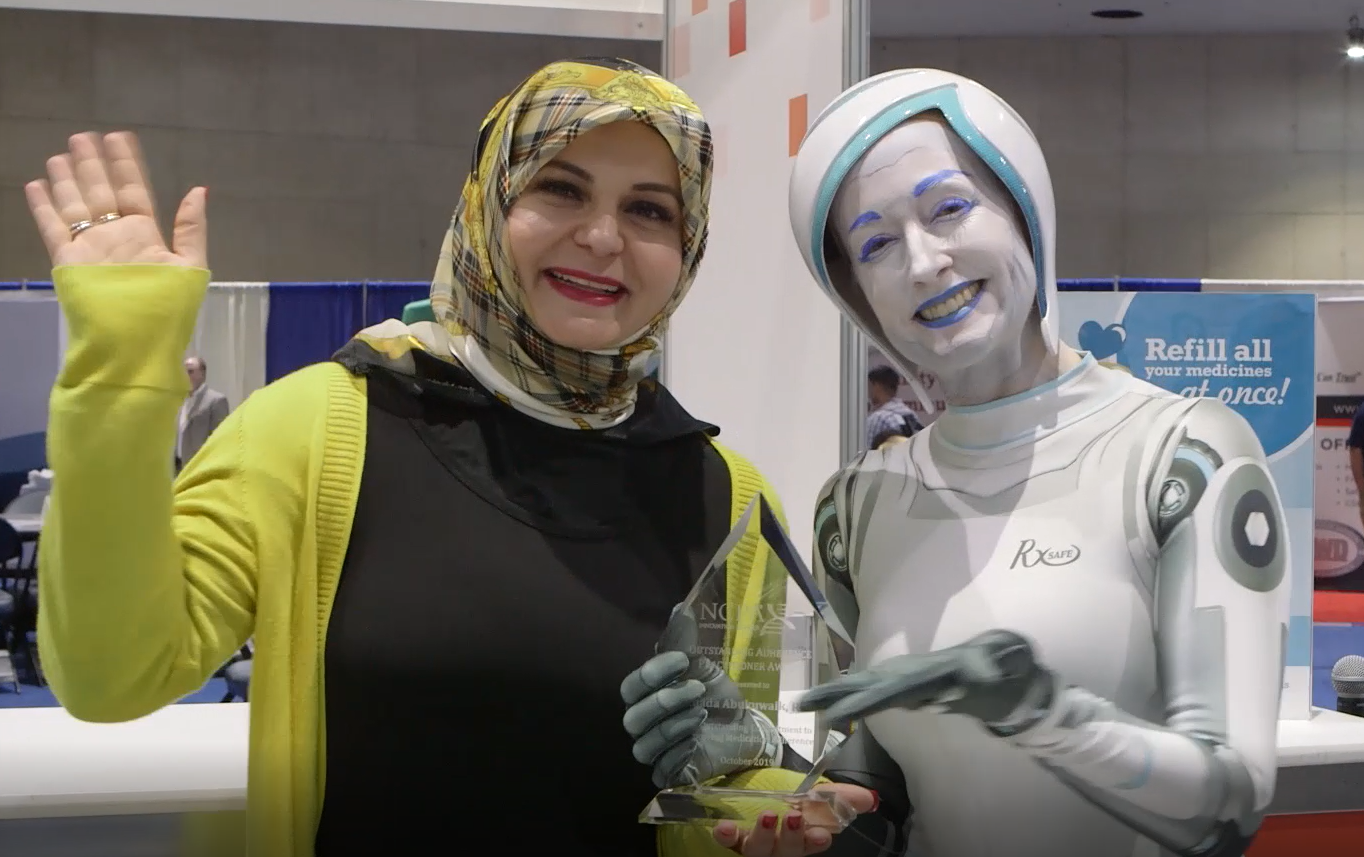 NCPA award recipient, Ghada Abukuwaik, RPh, with Rxy the Robot
"It's my distinct honor and privilege to join the NCPA Innovation Center in recognizing Ghada Abukuwaik as recipient of the 2019 Outstanding Adherence Practitioner Award," said RxSafe President and CEO, William Holmes. The company sponsored the award this year. "Ghada exemplifies how independent community pharmacists can use technology to have a huge impact on improving patient health and safety, and enable millions of Americans to live independently and productively for years to come."
Abukuwaik has been an RxSafe customer since 2016. Her pharmacy uses the RxSafe 1800 and the RapidPakRx, the company's adherence strip packaging system. This is the third straight year that an RxSafe customer has won the Innovation Center's adherence award. The other two winners were Benjamin McNabb, Love Oak Pharmacy, (2018) and Andrew Finney, Perkins Drugs. (2017).
To read the full press release, click here.