A TikTok video showing a CVS pharmacy technician filling a script with her bare hands immediately after working the cash register recently went viral, with more than 23 million views.
The video, shot by the patient whose prescription was being filled, has almost 38 thousand comments at the time of writing. The patient ultimately refused to accept her medication and ended up asking the pharmacist to fill her prescription again.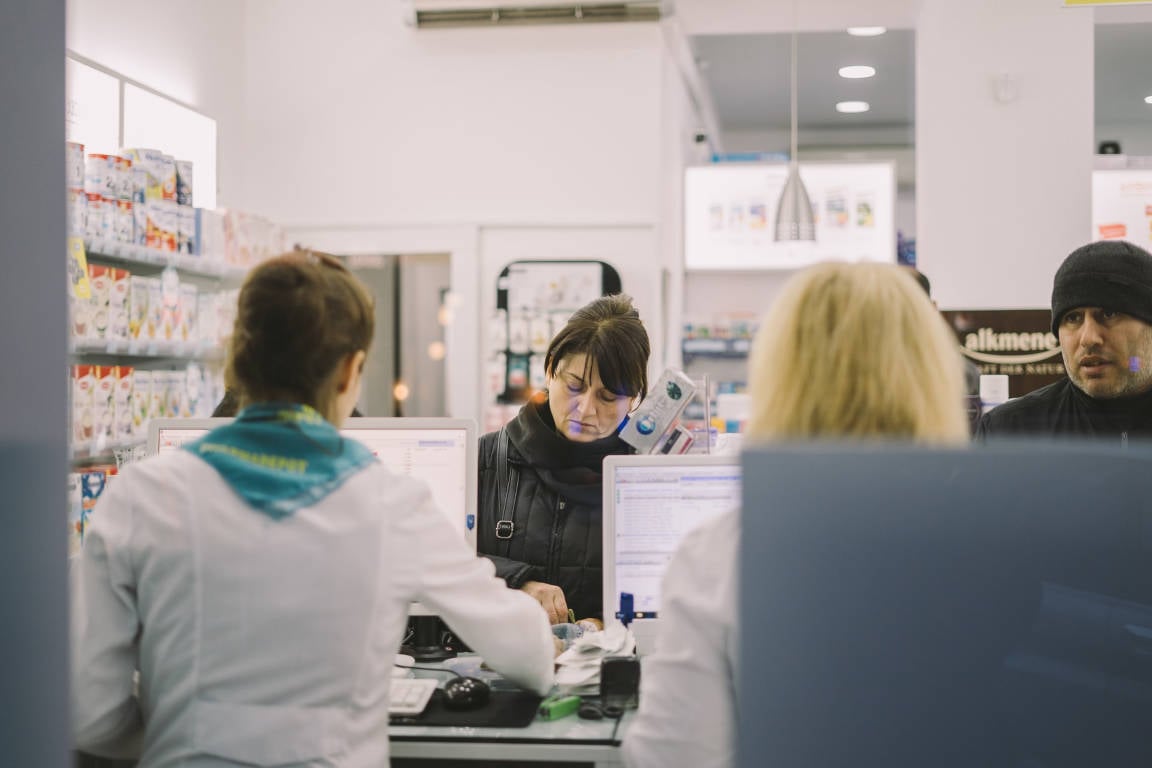 Comments from pharmacy technicians and others who claimed to be current and former CVS employees ranged from shock at the violation of safety protocols, to resignation at how things currently are at big retail pharmacies.
Is this video an isolated incident that merely shows a poorly trained or careless pharmacy technician, or does it show a general picture of a harried healthcare worker struggling to keep up with the demands of a difficult work environment that has become the norm in big retail pharmacies today?
Overworked and Understaffed
In our last blog, RxSafe touched on the dangers of non-adherence resulting from inaccurate dispensing and medication preparation errors from pharmacists and technicians. Poor communication and inadequate patient education aside, problems can definitely arise when pharmacists are rushed and left with inadequate time to take care of patients.
With pharmacies becoming busier than ever during the pandemic and the fall flu season, there's no question that employees can be more susceptible to burnout.
What is

Burnout?
The Mayo Clinic defines burnout as a "type of work-related stress" or "a state of physical or emotional exhaustion that involves a sense of reduced accomplishment." Common risk factors for job burnout include a chaotic work environment, heavy workloads, and long work hours.
Burnout for pharmacy workers may mean lapses in judgment and medication dispensing errors. For healthcare workers, burnout may not only hinder productivity, but may also negatively affect patient care.
Pharmacists, being in the business of health care, were in stressful situations long before the pandemic began, with 91% of full-time pharmacists in chains seeing their workloads as "excessive" and 69% of full-time pharmacists reporting that their workloads had "increased" or "greatly increased" compared to the year before (2018), according to the 2019 National Pharmacist Workforce Study.
With increasing demands on pharmacists during pandemic-related worker shortages, the situation has only gotten worse.
While stress at an independent pharmacy can be much lower, employees at big retail chains such as Walgreens or Rite Aid also have to grapple with rampant micromanaging, as companies push to earn more profit and squeeze more performance from pharmacists and support staff through constant monitoring of KPIs and metrics, according to pharmacists who worked at these chains.
A 2018 study in the Americal Journal of Health-System Pharmacy revealed some 53 % of pharmacists surveyed reported a high degree of burnout predominantly caused by increased workload and administrative demands.
Labor and Supply Shortages – How Has it Affected US Pharmacies?
Industries across the country are experiencing an unprecedented crunch due to the effects of worker and supply shortages. Experts explain the shortage as a consequence of a large number of workers taking voluntary retirement and an ongoing global shortage of goods due to supply chain disruptions. There were 2.5 million retirees from 2020 to 2021, with 1.5 million of these workers designated as early retirees.
Expectations of workers in the US have changed dramatically during the pandemic. Workers no longer want to work for lower wages and are expecting better pay and more flexibility in working conditions. The supply of workers entering the workforce has not kept up with higher demand as economies reopen. Employers have not been able to fill jobs despite wages increasing 3.6% YoY in June 2021.
Along with labor shortages, pharmacies also saw medications in short supply. Anticipatory purchases of drugs, closures of drug factories, and higher demand due to the pandemic have affected the supply of antibiotics, chemotherapy medicines, heart medications, painkillers, and some COVID treatments.
What does this all mean for front-line workers such as pharmacists?
Better Patient Care Means More Stress?
While the pandemic expanded opportunities for other workers, such as pharmacy technicians, to step up and be more actively involved in the care of patients, it further taxes an already thinly spread workforce struggling with supply shortages, longer work hours, and an increasingly complex work situation that includes more and more job responsibilities.
For the typical retail pharmacy chain employee who works a 12-hour day, the workload can include administering dozens of vaccines, performing Covid-19 tests, and disinfecting surfaces. All of these new tasks are in addition to the normal duties of dispensing medications, talking with patients, and attending to other duties.
#PizzaIsNotWorking
To highlight the unrealistic pressure and expectations on pharmacists, some PharmDs have taken to social media to shed light on the issue.
Shane Jerominski, a PharmD from Palm Desert, CA who has a decade-long history of working at large chain pharmacies, started the Facebook group, "The Accidental Pharmacist", to shed light on the unrealistic expectations placed on pharmacists at these chains. Jerominski's wife, a pharmacist who works at a 24-hour Walgreens, criticizes the lack of quality time pharmacists can give to a patient, commenting that patient interactions have been cut short from "five- to 10-minute consults to just under 1 minute."
Bled Tanoe, a Pharmacist from Oklahoma, started the Facebook Group and hashtag, #pizzaisnotworking, to highlight the lack of support pharmacy workers are getting from companies. Explaining the chaotic situation pharmacists put up with, Tanoe says, "Give the support and I don't mean Pizza. Yes, I love pizza. But it is no longer cutting it. You can't expect people to survive this amount of work with no help. We are drowning. Pharmacy staff are mentally, emotionally, and physically exhausted."
Happier Employees and Time Savings Realized
On the biggest impact of implementing pharmacy automation in her business, Jana Bennett of the Medicine Shoppe in Sherman, TX says, "Something I never saw coming was technician job satisfaction. Our technicians also got the authority to administer vaccines, and so our business has totally changed in the last 10 months to where the pharmacists really now just get to focus on verification and counseling. Technicians are doing everything else. They are running the show and they love it. And they are so much happier."
The use of pharmacy automation systems can afford busy pharmacists more time to attend to other non-traditional job roles such as medication therapy management and patient counseling, making a positive impact on adherence in the process.
On the positive effects of using automation technology coming from a manual card filling system, Bennett says, "You can only do so many when you're doing the manual cards and we had about hit our limit and it just took so much brainpower and so much manpower that you almost didn't want to tell anybody that you did it anymore because you didn't want to handle five more patients." Having RxSafe's RapidPakRx strip packager changed all that.
Pharmacist Kyle Lomax of Southern Pharmacy in Arkansas agrees and says, "Just from a patient management and from a pharmacist's time to check the medications, we knew that if we wanted compliance packaging to be part of our business, we could not continue with that card-based system."
Transformative Solutions
RxSafe helps independent pharmacies with solutions that transform their businesses by improving these important areas:
Better patient care through increased adherence

Improve your practice by maximizing time on relevant tasks

Increased profits and patient growth means more robust business
Schedule a meeting with our Business Transformation Department by calling 833-791-1772 or visit our solutions pages for more information.