RxSafe is a proud sponsor of NCPA's upcoming webinar – Medical-at-Home: A Game-Changing Opportunity for Long-Term Care.
The webinar will cover topics such as revenue opportunities, packaging considerations, regulatory landscape, and workflow best practices for LTC pharmacies interested in offering medical at home services.
When: June 29

Time: 2 PM EST
What is Medical at Home?
Medical at home is a growing service that allows patients the freedom to receive health care in the comfort of their own home. Services can vary and be adjusted to meet the needs of each patient.
According to a study done by AARP, approximately 80% of adults are interested in remaining in their home for as long as possible. That's roughly 43 million Americans!
With a growing interest in staying at home, it is important that healthcare providers adjust to meet the needs of these patients.
Independent Pharmacies are Positioned to Help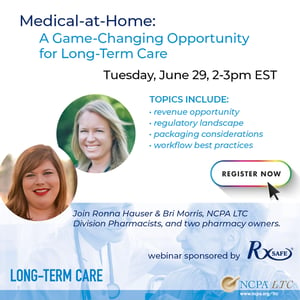 Independent pharmacies are uniquely positioned to help this growing market. Pharmacists can offer services such as medication adherence, delivery and other services that can be customized to meet the needs of patients who desire medical at home services.
Unlike chain pharmacies or mail-order pharmacies, independent pharmacies can provide personalized care to patients who want to age in place.
To learn more about why medical at home services are a growing revenue opportunity, please register for the webinar by clicking the 'Register here' button above.
Meet the Panelists
Ben McNabb, PharmD, has owned Love Oak Pharmacy located in Eastland, Texas for the past 18 years. McNabb is an experienced community pharmacy owner with a demonstrated history of community pharmacy excellence.
Bri Morris, PharmD, has been working as the Director of Strategic Initiatives for NCPA since 2016. Morris has an extensive background working with community pharmacy, and graduated from the University of Arkansas for Medical Sciences in 2013.
Ronna Hauser, PharmD, has served as the Vice President of Policy & Government Affairs Operations for NCPA since 2009. Hauser is a pharmacist executive with over 20 years of experience in pharmacy association management, legislative and policy development, pharmacy practice and operations, and much more.