Every pharmacy owner knows that helping patients take their medicine properly improves patient health. But medication non-adherence is a costly problem with no easy solutions. Medication synchronization is only part of the answer. Filling blister cards by hand is time-consuming and error-prone. And automation that wasn't designed for independent pharmacies doesn't always fit into your workflow – or your budget.
Kelby Gorman, pharmacist and owner of Moore's Pharmacy (two locations in south Texas), was fighting an uphill battle.
Click the video above to watch the full testimonial.
"We bought the RapidPakRx because we wanted something that would give us accuracy and reduce errors," says Gorman. "The other things that we used were more blister-pack style adherence packaging, and there was the potential for error in that… human error. The RapidPakRx allowed for us to adherence package in an efficient, effective manner that would fit into our workflow."
Like many pharmacists, Gorman found the pouch-packaging solution to be easier to swallow for patients.
"We knew adherence was really becoming a major problem, and we felt like now was the time; we're hearing from patients on the adherence packaging that it's simple, it's easy," explains Gorman. "They know whether they took their medicine or not. If they had put their meds in the little pill-minder packs, they didn't know if they remembered filling the pill-minder or not. With this, it's very easy because it explains on there the day and the time. If a pouch is missing, they took it. If it's still there, they didn't take it. Very simple for patients."
Supplement Sales Increased 20 Percent
When Gorman saw how his patients enjoyed pouch packaging for their prescriptions, he recognized an opportunity to grow his supplements business as well.
"We were previously selling supplements, but by being able to put them into the strip adherence packaging, it allowed for us to not only increase our sales through return customers, but because nobody could get that anywhere else, our sales actually increased about 20%," Gorman recalls. "We're at about $30,000 in sales a month now in our supplements, and that's directly attributed to the RapidPakRx."
Gorman explains that the supplements his pharmacy uses are available through some local clinicians in town. So, in order to keep patients coming to his pharmacy only, he incorporated them into a monthly pack that they could only get at Moore's Pharmacy.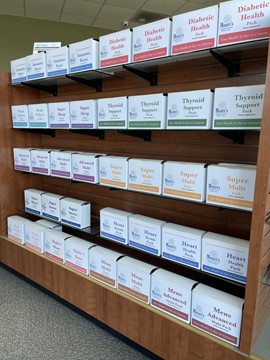 "They could not get their supplements packaged like that anywhere else," Gorman says.
Profits 2x to 4x Higher with Supplements
"You, you can make 2, 3, 4 or more times what you can make with prescriptions selling your supplements," Gorman adds. "With the RapidPakRx, initially we were seeing, on average, eight scripts per patient, which appears to be our numbers with our patients. We were seeing about $50 to $60 profit per patient. We are now seeing numbers as high as about $90 on that same eight scripts. So, it's trending up."

Gorman says the way you market vitamins and supplements really makes a difference, too.

"With my multivitamin packs, I would say that we always use supplements from leading companies," Gorman explains. "And then when talking to customers, I would use key points, such as our B complex has five times the amount of B vitamins that your standard multivitamin product has. Things like that, it resonates with people."

Branding for the Win
Finally, Gorman concludes that pouch packaging vitamins and supplements, as well as prescriptions, has helped improve his pharmacy's branding efforts.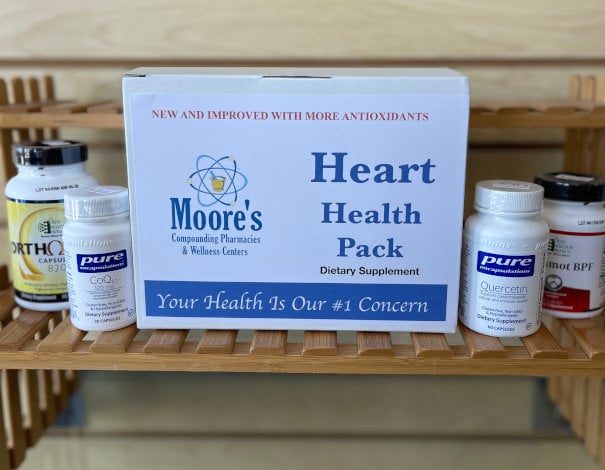 "The adherence packaging has increased our ability to brand our store because we're, we're actually incorporating our name, our into Moore's Pharmacy pharmacy med packs," Gorman says. "So any pharmacy owner that's looking for an adherence packaging solution, the RapidPakRx in my opinion is the way to go. It offers the ease of use, the flexibility, the convenience and simplification for your patients, and profitability for your business and the ability to expand it outside of just prescriptions only."

For more information on how to grow your business with vitamins, supplements, and pouch packaging, call RxSafe at 877-797-2332 or visit our product page for details on the RapidPakRx.