Post Summit update: Pharmacy Profit Summit Live was a success with nearly 150 pharmacy owners and guests participating in the two-day event. RxSafe would like to thank Dr. Lisa Faast and all the guest experts, fellow exhibitors, and attendees who made the event a success. We are inviting all pharmacy owners who attended the show to join The Summit Facebook Group and ask their post-show questions. For instructions on how to join this group, watch this video.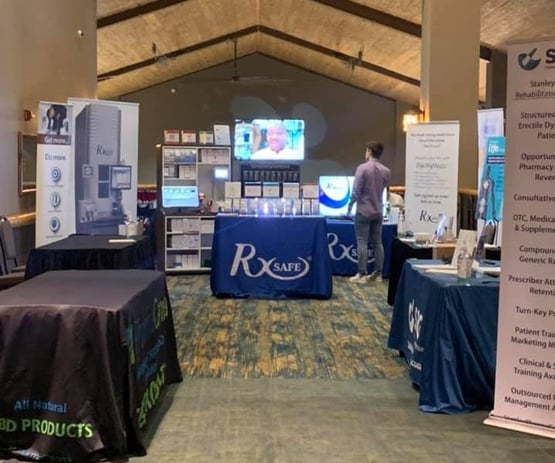 The RxSafe Exhibit at Pharmacy Profit Summit Live
Fill in the blank. "There's no such thing as _____________.
If you were looking for a "free lunch," we're sorry to disappoint you.
The correct answer is: There's no such thing … as a 'good' or 'bad' pharmacy owner.
DiversifyRx is out to prove that a thriving, profitable pharmacy is possible for everyone.
Here at RxSafe, we agree wholeheartedly, and we're excited to be the Premier Presenting Sponsor at the LIVE and in-person Pharmacy Profit Summit, which takes place July 23-24 at Great Wolf Lodge in Dallas-Fort Worth, Texas.
The event will host more than 100 pharmacy owners who want to stop struggling and grow their business, to the tune of an extra $100,000 in profit this year.
The Pharmacy Profit Summit aims to give you the knowledge, tools, and support to do just that.
Imagine being able to:
reward your employees with a large year-end bonus;

pay yourself;

hire that clinical pharmacist you've always wanted to;

take a vacation; or

open another location.
"Being wildly successful is not only for a lucky few," says Dr. Lisa Faast, CEO of DiversifyRx. "All pharmacy owners can and should have a thriving, profitable pharmacy."

RxSafe will be showcasing its RapidPakRx system, which aids pharmacy profitability in several important ways.
Access to a rapidly growing, high-demand market: adherence pouch packaging

Improved Star ratings and drug reimbursements (reduced DIR fees)

Lower labor costs (free up staff time to add profitable services)

Reduced dispensing costs per patient, while increasing volume (more refills)
Click to learn more about the Pharmacy Profit Summit, or follow this link to register now.
Watch the video below to see how pharmacy owners are leveraging the RapidPakRx to improve their bottom line.