For the second straight year, an RxSafe customer has won the Outstanding Adherence Practitioner Award from the National Community Pharmacists Association (NCPA).
Dr. Benjamin McNabb, pharmacist and owner of Love Oak Pharmacy in Texas, received the award today at the NCPA 2018 20th Annual Convention in Boston.
The award, sponsored by PrescribeWellness and presented annually by NCPA, is given to a community pharmacist who has "made a significant effort in the field of patient medication adherence services," including:
demonstration of a continuous commitment to patient adherence services;
implementation of coordinated adherence services involving other health care professionals;
documentation of improved patient medication adherence; and/or
promotion of availability and value of pharmacy-based adherence services.
McNabb has been an RxSafe customer since 2016, when he purchased an automated strip packaging system.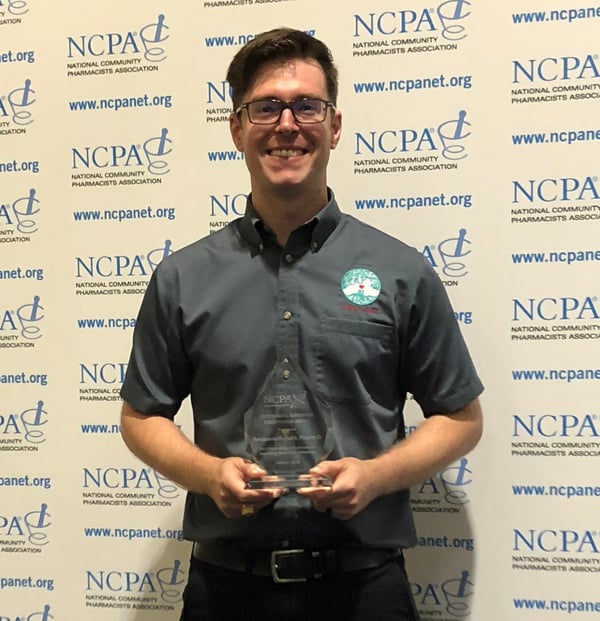 "On behalf of RxSafe, I'd like to extend our heartfelt congratulations to Ben McNabb, who is so deserving of this award," said William Holmes, president and CEO of RxSafe. "When I personally became acquainted with him two years ago, I recognized Ben as community pharmacy thought leader on patient adherence. Ben's innovative approach to his local market, and commitment to outstanding patient care and education, were instrumental in demonstrating the viability of our adherence business model."
McNabb's success improving patient adherence at Love Oak Pharmacy is proven by the numbers. From a standing start with no existing adherence program, Ben grew his patient population using adherence packaging to 200 patients in 2016, and increased that by 100% to 400 patients by the end of 2017. Love Oak's CMS star rating rose from three to five during that time.
"Ben and his staff at Love Oak Pharmacy have been tireless advocates for better medication adherence, both in their community and in the industry at large," said Holmes. "I've witnessed his advocacy first hand, as he has joined us on the Pharmacy Podcast to tell Love Oak's story and spread the word to other pharmacy owners. Ben always finds time to offer guidance when another pharmacy owner is trying to launch an adherence program. I cannot think of anyone more deserving of this award."
The 2017 winner of the NCPA's Outstanding Adherence Practitioner Award was another RxSafe customer: Andrew Finney, PharmD, owner of Perkins Drugs in Tennessee.
NCPA will make a donation of $1,000 to a school or college of pharmacy of McNabb's choice. He received his PharmD from the University of Texas at Austin.