Increased business volume at your pharmacy is always a good thing, but dealing with a significant uptick in customers can put a serious cramp on your space. Even if you're not growing, your pharmacy footprint may simply be space-constrained. If your pharmacy floor plan is inhibiting your operations, you might think you need a remodel to keep up with changes. Unfortunately, remodels can be costly and may lead to your location being closed and/or hampered from doing business during the construction process.
Thankfully, there are good alternatives to a full remodel of your pharmacy. Pairing an RxSafe system with new shelving and counter wall units from Uniweb is a great way to maximize space while increasing the business volume your pharmacy can handle. This approach to handling your pharmacy's expansion needs saves both time and money, which means you can meet new patient demand without shutting down or going over budget.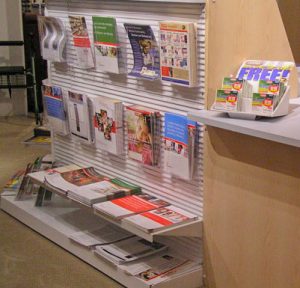 How RxSafe Can Save You Space
The RxSafe 1800 is an innovative pharmaceutical storage and dispensing solution that can help increase both efficiency and security. With RxSafe, you can store practically all of your pharmacy's medications in one secure location. The RxSafe makes it easy to dispense scripts quickly and accurately no matter the volume of your pharmacy. It's an ideal solution in pharmacies where adding more technicians simply isn't affordable or feasible.
In addition to providing for secure storage of medications and accurate dispensing, the RxSafe also provides a great way to increase overall floor space in your pharmacy. The machine's small floor "footprint" means it can fit into virtually any pharmacy configuration. Because most of your medications can be stored in the RxSafe itself, you'll also eliminate the need for existing counters and shelves.
How Uniweb Products Add New Utility to Your Pharmacy
Like RxSafe, Uniweb is a based in California. Uniweb is known for producing high-quality retail displays that offer flexible merchandising options. Constructed from 24 gauge cold-rolled steel, Uniweb displays boast strength and durability while allowing for excellent control over how merchandise and supplies are stored and displayed. The company offers specialty solutions for pharmacy counter walls that are designed to increase retail capabilities while adding more space to your pharmacy overall.
Instead of using bulky display racks for pamphlets, over-the-counter medications and retail products, you can use Uniweb counter walls to display these items. With this unique storage system, you have total control over how shelves are configured and how merchandise is displayed. It's a great way to increase both the retail capabilities and spaciousness of your pharmacy no matter its current size.
Avoiding a Costly Remodel
If you've been considering a pharmacy remodel, take a step back. Is it possible that combining an RxSafe with Uniweb counter wall systems could solve your space problems while providing for greater efficiency? Using these systems together can significantly cut down on remodeling time, while saving you money. It's also a great way to improve your pharmacy's overall security and improve the shopping experience for both new and current patients.
Interested in learning more about saving space in your pharmacy? Call us today at 877-797-2332.