For When the pandemic first began, everyone was hopeful that it would quickly become a thing of the past.

Yet as we approach the end of 2020, the reality is that we have to prepare for a "new normal." We have been facing this pandemic for months, and there is still no vaccine or approved treatment plan.

For independent pharmacists, it is important to adapt to new standards for the safety and comfort of patients. With a growing emphasis on social distancing and stay-at-home orders, pharmacists need to continue to provide essential care for patients -- without compromising their health.
Contactless Service
For some patients, going into a pharmacy can be a stressful and risky task. The possibility of running into someone who might carry the virus could be deterring patients from picking up their medications.

And, as we have learned from monitoring the virus these past few months, patients with chronic diseases are most at risk for severe complications from COVID-19.

Ensuring that patients properly adhere to their medications can help improve their overall health outcomes. In an effort to provide contactless service, pharmacists can offer home delivery.

The RapidPakRx, an adherence pouch packager, can simplify the contactless delivery process significantly. Instead of of making multiple deliveries to the same patients in a month, the RapidPakRx can package a 30-day med cycle, which can be delivered to the patient on one day. All the medications are organized in a small box, with each pouch labeled with the date and time each medication needs to be administered.

Patients do not have to worry about organizing bulky pill bottles, and can comfortably keep track of their medications on their own.
Turning to Technology
One of the biggest challenges independent pharmacists are facing is providing patients personalized healthcare. Independent pharmacy owners take pride in providing high quality care, which big chain pharmacies just can't offer.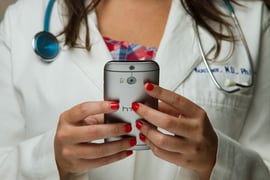 With many drugstore lobbies closed and patients preferring contactless delivery, providing personalized care is still possible. How? Taking advantage of technology can help independent pharmacist reconnect with their patients.

Telehealth is growing among health care providers in all industries, and can be a great tool to help independent pharmacists maintain and continue to build relationships with patients. Offering video call consultations is a great way to answer all the questions a patient may have.

A video call is more personalized than a phone call, because patients can actually see their pharmacist on their screen. These virtual consultations are the best option for pharmacies who want to continue focusing on creating and building personal relationships with patients. During these calls, asking patients how they feel or if they have experienced any side effects can show patients that you care.
Improving Care with Supplements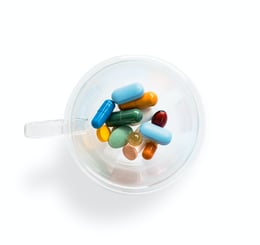 Many patients are worried about the risk of catching coronavirus, and with flu season right around the corner, there is no better time to start offering supplements to patients.

Incorporating vitamins into a patients medication regimen is easy with pouch packaging automation. Pharmacists can analyze the medications that a patient takes, and recommend vitamins based on common mineral deficits. Adding vitamins into the pouches can easily and quickly be done, with the universal bulk-loaded cartridges of the RapidPakRx.

Some pharmacy owners are taking adherence pouch packaging to the next level by offering supplement packs to boost the immune system. Instead of just targeting patients with large prescription loads, creating general wellness supplement packs is a great way to care for patients and grow your services.
"New Normal" -- with the RapidPakRx
Patients are changing the way they interact with healthcare providers. Adapting to the challenges created by the pandemic and understanding the needs of patients can help your pharmacy prepare for the "new normal."


Investing in automation can help your pharmacy successfully grow during the pandemic. The RapidPakRx is an all-in-one pouch packaging system that can complete packaging for up to 50 patients using only one technician in an 8-hour shift.

If you would like to learn more about how the RapidPakRx can prepare your pharmacy for the "new normal," please visit our product page. To speak with an adherence automation expert, please call (877) 365-2369.