In the last year, health has been everyone's primary focus. With coronavirus worries, patients want to be proactive when be proactive when it comes to their health.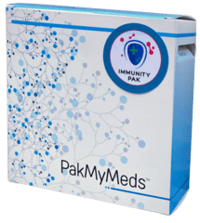 Some patients are turning to their pharmacists for a solution to help keep them healthy. This new demand has encouraged some pharmacists to offer a prepackaged combination of vitamins and supplements to support immune system health. These "immune-boosting" prepackaged boxes are gaining a lot of traction among pharmacies that want to offer supplements and vitamins to their patients.
We've added "Immunity Pak" labels to support our pharmacy partners offering this proactive service. The labels are easy to add, and helps patients differentiate between their medications and "immunity pack" pouches. Below you will find label specifications.
Medium 2.5", Circular-shaped

125 labels

White paper material

Easy "Peel and Apply

"
To purchase "Immunity Pak" labels for your pharmacy, please click here. If you have any questions regarding marketing collateral, please contact Sydney Stewart (sstewart@rxsafe.com).