Independent pharmacy is a tough business. With increasing competition from chain stores, shrinking reimbursement, growing DIR fees and clawbacks -- and now Amazon/PillPack going after your patients -- it's not getting any easier.
Lately, we've been talking with pharmacy owners from across the country who are not just surviving, but actually thriving and expanding their businesses in today's environment. They're growing their patient base, boosting revenues and increasing profits, using one key strategy: adherence packaging services. Here are three of their stories.
Starting from scratch
Texas pharmacy owner Ben McNabb went from zero adherence patients in 2016 to more than 400 patients by the end of 2017. During that time, his pharmacy's CMS "Star rating" went from 3 to 5 stars.
After purchasing RxSafe's adherence packaging system, Ben was able to expand his pharmacy's geographic reach from a 10-mile circle to a 50-mile circle, and increased his overall pharmacy revenue by 24 percent in the first 12 months.
How did he do it? He focused on new patient acquisition, and forged relationships with local home health agencies and physicians. He advertised on Google and Facebook. He even ran local TV ads after Cowboys football games. It worked. For his achievements, McNabb was awarded the NCPA "Adherence Practitioner of the Year" award in 2018 by leveraging RxSafe strip packaging.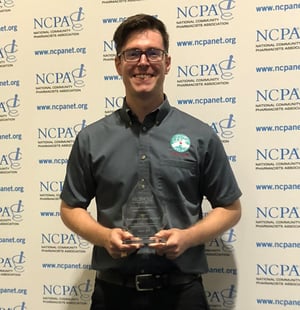 For McNabb, it was simple math. His adherence packaging patients average 11 scripts per month. With an average margin of nearly $14 per script, he was able to bring in more than $150 per patient per month in profits, or about $1,800 per patient per year.
But what if margins at your pharmacy are smaller, or your patients don't average 11 scripts per month? The math still works.
For example, let's assume your average margin is only $10 per script. To keep the math simple, let's say your adherence patients only average 10 scripts per month. That's still $1,200 in profit, per patient, per year.
In the scenario above, by adding 100 adherence patients, you could achieve $120,000 in new profits per year. With 200 patients, you'd reach $240,000 in new profits every year. With 400 patients, your new profits could climb to $480,000 annually!
It's about cash flow
For small businesses, cash flow is king, and pharmacies are no different. So, in the example above, with 10 new adherence patients, your drugstore would earn $1,000 per month in new profits. How many patients do you need to break even on your RapidPakRx investment? If you could add just 10 new patients per month, in three months, your new cash flow would be $3,000 per month (30 patients x $10 average margin x 10 scripts per month = $3,000 per month). That new cash would more than cover the monthly lease on strip packaging automation (assuming a standard 84-month lease). Put simply, with just 30 new adherence patients, you're already cash-flow neutral. Any new adherence patients added after that point would only enhance your bottom line profitability.
"Adherence packaging has helped our business to be more profitable because we are maximizing reimbursements from Medicare plans, maximizing the number of prescriptions filled per patient per month, and capturing many new patients that have complex drug regimens," says McNabb, pharmacist and owner of Love Oak Pharmacy in Eastland, Texas.
If you're like McNabb was in 2016, and haven't started an adherence program yet, don't despair. We've created a handy ROI calculator for you. Simply estimate the number of new patients you are likely to enroll in your pharmacy's adherence program, input your estimated number of scripts per patient, and profit margin, and we can calculate how quickly you'll get a return on investment with adherence packaging automation. For example, using NCPA averages for prescription margins, if you could add 15 new adherence patients per month, you could be cash flow positive by your third month and be on track to achieve total ROI in 13 months.*
Moving from blister cards to strip packaging
When Kyle Lomax, pharmacist & owner at Southern Pharmacy, wanted to grow his adherence program, he realized that manually filling blister cards was a huge limitation.
"Before we bought the RapidPakRx™, we were using a manual card-based system that was labor intensive," Lomax explains. "We had reached capacity and needed automation to help us package adherence-based patients, so we chose the RapidPakRx."
Lomax says, since he began using RapidPakRx, he has improved productivity and also increased his pharmacy's Star ratings.
"Using the RapidPakRx versus card filling has cut down on our production time at least 50 percent," Lomax says. "The visual inspection software included with the RapidPakRx gives us the ability to verify packages very easily. The non-specific cartridges make it easy for us to change NDCs on the fly, and the small size in our retail environment has been a great fit for us."
If you're currently using blister cards for patient adherence, we also have an ROI calculator for you. Based on NCPA averages, processing 8 patients per day on a typical multi-dose blister card could cost your pharmacy $3,100+ per month. Using RapidPakRx, you could save $2,192 per month. RapidPakRx could triple your year-one adherence business, at no additional cost for labor and consumables, and you could achieve ROI in as little as 11 months.*
Migrating from cassette-based to RapidPakRx
Trey Crawford, pharmacist and co-owner at C & C Drugs, started his adherence program in 2017, using a cassette-based system.
"We were looking at our synchronization program and noticing that people were not getting their medications on time. When we looked at our Star ratings, we were seeing we were not where we wanted to be, and we saw adherence packaging as a way to get our adherence numbers where they should be." Crawford says.
"Another reason that we decided to get a strip packager is because of PillPack. PillPack was bought by Amazon and we all know the Amazon is a real big player in the United States, and if you really want to compete with that giant, you have to be able to offer that for your patients so that you don't lose them," Crawford explains.
Since purchasing the RapidPakRx system, C & C Drugs has been able to increase its trade area to a 50-mile circle, and has grown its adherence program to around 380 patients. With the RapidPakRx, Crawford says he can run more than 50 completed jobs for adherence patients in one day, with 99.9 percent accuracy.
"The speed of the RapidPakRx is unbelievable," says Crawford. "There are no more trays that you have to load. No more cassettes. No more sending things off to get to another cassette because the NDC is incorrect. You have cartridges that you just pour the meds in and it makes life so much easier than what it used to be."
If, like Crawford, you started with a cassette-based strip packager, please note: RapidPakRx requires no inventory in the adherence packager and includes built-in vision inspection. Be sure to see our ROI calculator if you're migrating from cassettes. A pharmacy with 200 adherence patients, using cassette-based automation, could save as much as $100,000 by liquidating unnecessary inventory. Coupled with the improved speed of pharmacist verification, higher capacity and lower cost of consumables, and taking advantage of Section 179 savings, you could achieve ROI in as little as 9 months.*
RapidPakRx is the first-ever system for adherence packaging designed specifically for retail pharmacies to fill a 30-day med cycle at the lowest possible cost. No other system comes close.
And now, for a limited time, customers that purchase a RapidPakRx system will be automatically enrolled in the PakMyMeds Network. PakMyMeds Network is a new, no-hassle solution to connect independent pharmacy owners with local patients who want an easier way to take their medications.
Using sophisticated online and mobile ad networks, social media, geotargeting and geofencing, PakMyMeds Network will advertise -- in a 50-mile circle around participating pharmacies -- to patients who could benefit from improved medication adherence and/or are searching for adherence packaging services. Patients who opt-in will then be connected with a partner pharmacy in the PakMyMeds Network.
To learn more about the RapidPakRx, visit our product page, schedule a demo with your salesperson, or call now at (877) 960-3236.
*Values are estimates. Your revenue growth and cost savings may vary. Visit our strip packaging ROI page to calculate ROI for your specific situation.