In an earlier blog post, we featured Steve Maki of Spruce Mountain Pharmacy in Jay, Maine. In that post, Maki talked about how the RapidPakRx™ transformed his business by empowering his pharmacy to stand out through better customer service, by offering an innovative new product, and by ultimately improving patient adherence.
This time around, Steve Maki talks about the human element in his pharmacy, the people behind the scenes.
Listen to the podcast by clicking the play button above.
What Really Makes a Pharmacy Work?
"Team building is one of those topics that's near and dear to my heart," says Maki. "I've always felt a pharmacist, or a pharmacy is only as good as the staff running it."
Explaining what went into developing his own team at Spruce Mountain Pharmacy, Maki says, "The adage is if you love what you do, you'll never work a day in your life."
"That's kind of the crux of building the team that I've built here is just to be able to get to that level of comfort and ease and knowing staff's responsibilities, pharmacist's responsibilities. It's really kind of been a labor of love to get to this level and to have this team assembled."
Maki understands that having just a strong team does not automatically equate to a better pharmacy, adding, "That's really kind of been the backbone of my philosophy."
"I don't necessarily want the all-star technicians or the all-star pharmacist, but I want the best pharmacist. I want someone that's going to work in the team to help be dynamic and make this team successful."
Moving Into a New Location and Working with a Vision for Pharmacy
How exactly did Maki get his pharmacy staff to understand his vision for pharmacy and what that vision meant for improving patient care?
Just before the pandemic hit in December 2019, Maki moved into a new location and invested in a RapidPakRx from RxSafe.
To further add to the challenge of moving into a new place of business, the staff was not exactly on the same page on the importance and need for the machine, Maki recalls.
But since Maki had complete confidence in his staff, instead of taking the lead on installing and running the new pill packing machine, he let his staff handle it.
The staff "knocked it out of the park," Maki says.
By letting his staff handle such a major undertaking, Maki says that his decision "gave him some dynamic ability to empower his staff to take on roles and responsibilities that would kind of be traditionally owner or pharmacist responsibilities."
Doing so really gave his staff the ability to buy "ownership into the operations of the business," he adds.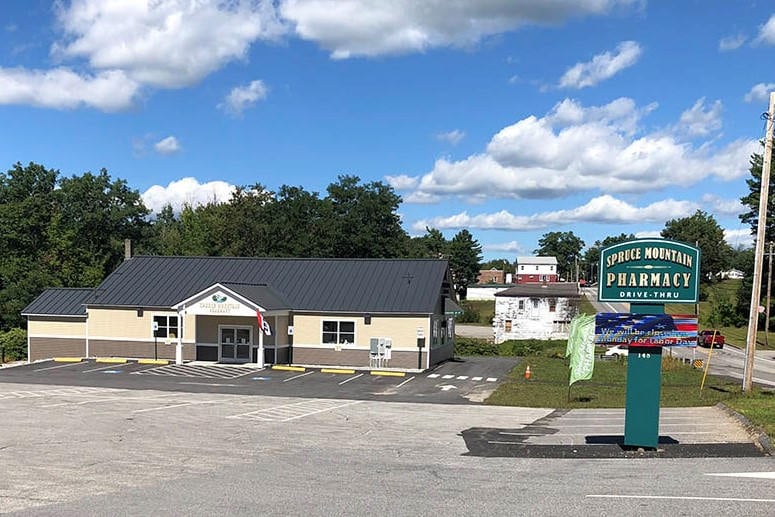 Spruce Mountain Pharmacy in Jay, ME (photo source: Good Neighbor Pharmacy)
Pouch Packaging System Implementation
Maki let his pharmacists and pharmacy technicians plan and implement every aspect of the new strip packaging system.
Talking to his key people and giving them the leeway, Maki explained that he "needed them to come up with policies, procedures, best practices, how to handle issues, how to handle anything and everything that can come with it."
Maki emphasized that he was not going to be doing any 'hand-holding' or providing any guidance. His staff was totally on their own.
The system has since become a growth driver for Spruce Mountain Pharmacy and a very successful component of the pharmacy's business model.
On Failure in Business
When asked about his attitude toward failure, Maki has this to say, "How do you define failure? I look at failure as not learning from what you made a mistake from."
"Have I made mistakes in 12 years of running Spruce Mountain Pharmacy? Absolutely, I have. Have I learned from them? Oh, you better believe I have. I don't like to fail but the failures have taught me so much that I would need to be successful later in life," Maki explains.
On Taking Risks
Being the first to offer a strip packaging service in Jay was an opportunity and a risk for Maki's pharmacy.
The system opened the potential for reaching new patients, but since the technology and concept were too unfamiliar and new, the community and the staff might not have been ready to adopt it without the proper messaging.
Maki says, "I think that, you're kind of putting yourself there to say, sometimes, it does show you where your weaknesses are, and it shows you where your strengths are."
Building a Better Pharmacy and Better Staff
Maki explains that he has a "very open-door policy with his staff" that makes everyone feel like they can bring up any concern, issue, or new idea with him without hesitation.
Maki credits input from the staff to have generated some of the pharmacy's best ideas.
How can pharmacy owners make their teams better and stronger for it?
Maki turns to the words of author and leadership expert John Maxwell for answers, saying, "People don't care about how much you know until they know how much you care."
"You have a dialogue with them about how your vision impacts them and how their effort and their work ethic impact you, you can make a really good symbiotic relationship there to make sure that we're working together, we're pulling in the same direction."
To listen to the whole podcast and learn more about Steve Maki and Spruce Mountain Pharmacy, click here.