CVS and Walmart are the most recent large chains to reduce operating hours in response to a nationwide pharmacist shortage. Beginning in March, CVS will cut back hours at roughly two-thirds of CVS retail locations – impacting about 6,000 pharmacies – according to a recent announcement by Amy Thibault, CVS Pharmacy's spokesperson. Meanwhile, Walmart announced plans to reduce pharmacy hours by closing at 7 p.m. instead of 9 p.m. at most of its roughly 4,600 US stores by March.
"By adjusting hours in select stores this spring, we ensure our pharmacy teams are available to serve patients when they're most needed," CVS' Thibault said.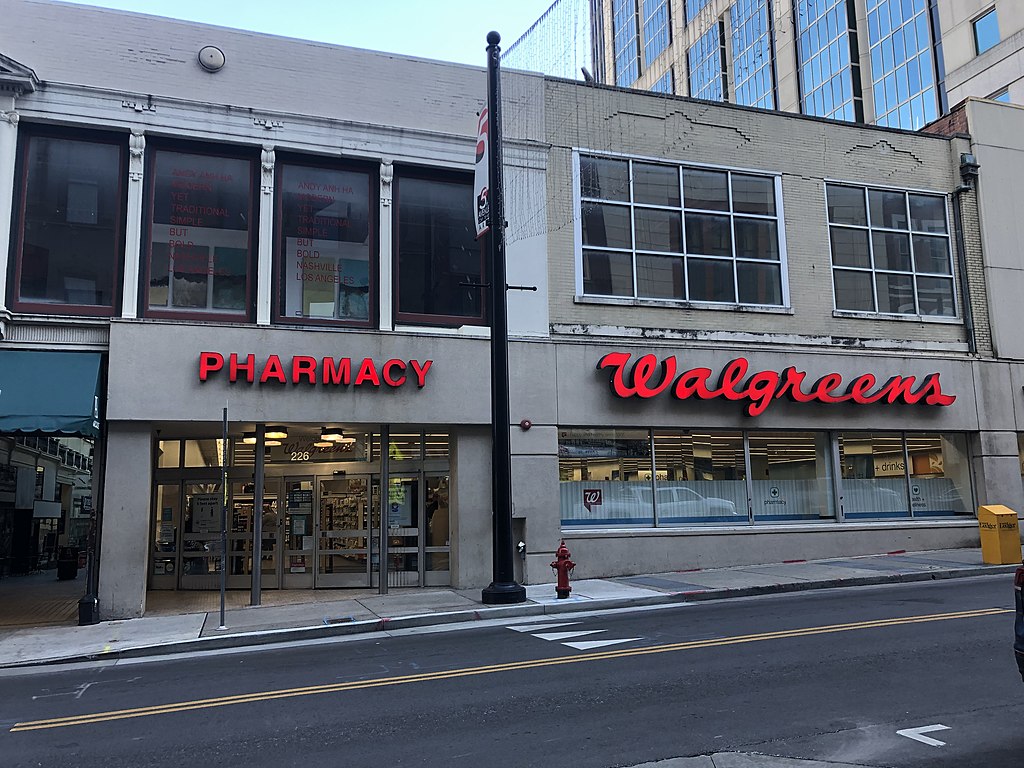 Walgreens building in Nashville. Image courtesy of Wikimedia Commons.
Better Work-Life Balance for Pharmacy Staff?
At Walmart, reduced hours offer pharmacy workers a better work-life balance and will better serve customers during the hours they are most likely to visit the pharmacy, according to a company statement. "This change is a direct result of feedback from our pharmacy associates and listening to our customers," the statement said.
CVS and Walmart joined Walgreens and Rite-Aid in the move, as those chains had already shrunk pharmacy hours at thousands of retail pharmacies late last year. Pharmacies have tried to find some solutions, including signing bonuses, higher wages, lunch breaks, and automation. In October 2022, Walgreens announced that it was changing its talent management approaches, including the elimination of task-based metrics for pharmacy staff performance reviews. However, such changes will do little, if anything to address the underlying causes, experts say.
Short-Staffing and System Faults
"Some are blaming reduced hours on a pharmacist shortage; it is incorrect to say that there is a shortage of pharmacists or pharmacy technicians," said Ilisa BG Bernstein, PharmD, JD, FAPhA, interim executive vice president and CEO of the American Pharmacists Association. "More accurately, there is a shortage of pharmacists and technicians willing to work under the current conditions. Pharmacy is a rewarding profession and pharmacists are experts in medication use. We need to stop conflating and blaming the current conditions on pharmacist or technician shortages, when it's due to short-staffing and healthcare system faults."
Readers of this blog know that we've covered pharmacy labor shortages in the past, and it's clearly a persistent problem, not only for chains but also for independent retail pharmacies. Pharmacists and technicians already were in short supply before the pandemic, and patient demand for Covid-19 immunizations and other tests put even more strain on pharmacy operations.
NCPA Survey on Staffing and Drug Shortages
A new survey released this month by the National Community Pharmacists Association (NCPA) indicates that many independent community pharmacies are experiencing difficulty filling open staff positions.
Unlike the chain stores, however, independent pharmacies tend to struggle less with pharmacist positions, and more with technician roles.
According to NPCA's survey, pharmacy technicians continue to be in highest demand (80 percent of those surveyed), followed by clerks/front end staff (43 percent), pharmacists (19 percent), and delivery drivers (17 percent). Overall, 67% of independent community pharmacies reported having a difficult time filling open staff positions.
"Independent pharmacy owners typically have more flexibility than chain pharmacies when it comes to personnel," said NCPA CEO B. Douglas Hoey, pharmacist, MBA. "They can offer more flexible hours and more attractive working conditions, for example. But unlike small businesses in other industries, they can't easily raise prices to cover rising costs because PBMs and big insurance companies dictate prescription drug pricing.
"Unfortunately, these ongoing pressures with the supply chain, PBMs, and our economy continue to make it a challenging time for the very pharmacies who, for so many patients, are the most accessible health care option. Policymakers must not only keep this in mind, but work to advance pharmacy payment reforms that will better support pharmacy teams and the patients they serve," Hoey concluded.
NCPA's survey was conducted Jan. 23-30, 2023, based on roughly 350 survey responses.
If you are interested in learning about how automation can save time for your pharmacy team to focus on more profitable and value-added services and tasks, contact RxSafe at (833) 791-1772.