Thank you for your continued interest in RxSafe. Our cutting-edge technology is transforming retail pharmacy safety, security, and accuracy through advanced, affordable robotic storage and retrieval systems at the retail store level.
RxSafe is thrilled to announce the launch of the RxVault System--safe, secure, accurate, and automated storage and retrieval for pharmacy narcotics and high-shrink inventory.
With the RxVault System, pharmacies now have access to unprecedented security features and can track all narcotics and high-shrink inventory to the pill, and in real time.
RxSafe Introduces the RxVault™ System
Safe, Secure, Accurate Automation for Narcotics and High-Shrink Inventory
For pharmacies, tracking and securing narcotics is a continual challenge. Manual verification is time consuming and subject to human error. Existing narcotics security solutions cannot physically verify on-hand inventory.
As the industry leader in automated high density robotic storage and retrieval systems for pharmacies, RxSafe has
developed a groundbreaking automated solution for narcotics storage--the RxVault System.
The RxVault System is based on RxSafe's existing automation technology, which has a proven operational performance record in the field, and will automatically and accurately track scheduled drugs down to the pill or package, while providing a complete "closed-loop" chain of custody as well as greatly enhanced pharmacy efficiency and regulatory compliance.
RxVault System Chain of Custody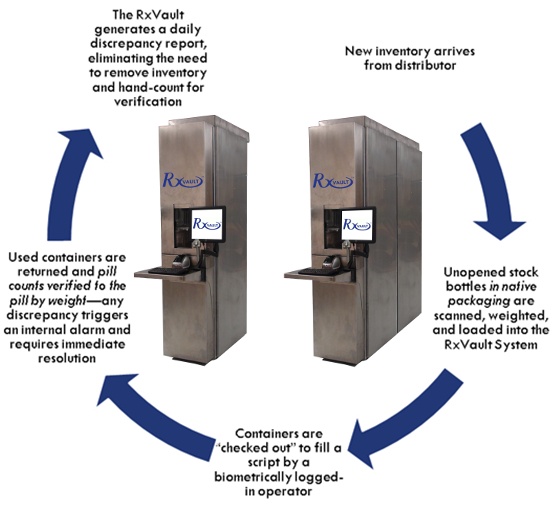 How the RxVault System Ensures Security and Accuracy
The industry-leading security and accuracy offered by the RxVault System includes features from RxSafe's core automation technology, as well as enhanced physical security:
• Biometric login required for medication access
• Time delay inventory access available
• Operators cannot manually access drugs. Only one container is delivered at a time
• System is accurate to the pill and counts by weight, eliminating the need to manually track narcotics
• Count discrepancies are resolved and reported in real time as they occur--no excuses!
• RxVault towers include reinforced doors and double locks, making defeat in the event of a break-in extremely difficult
• System includes an independent alarm, a silent alarm option, and it can wirelessly tie into existing pharmacy alarm systems
• Operators can use the available emergency feature to quickly access inventory and ensure staff safety during a daylight armed robbery event
The Bottom Line
Based on retail pharmacy shrink and waste data for narcotics and other high-theft inventory, the ROI for an RxVault System easily outpaces competing products just through shrink reduction savings alone.
"We listened to our customers when we designed the RxVault System," says RxSafe's CEO William Holmes, "and this new system's advanced security components and cutting-edge feature set were developed based on their input and needs through every step of the process."
RxVault Delivers: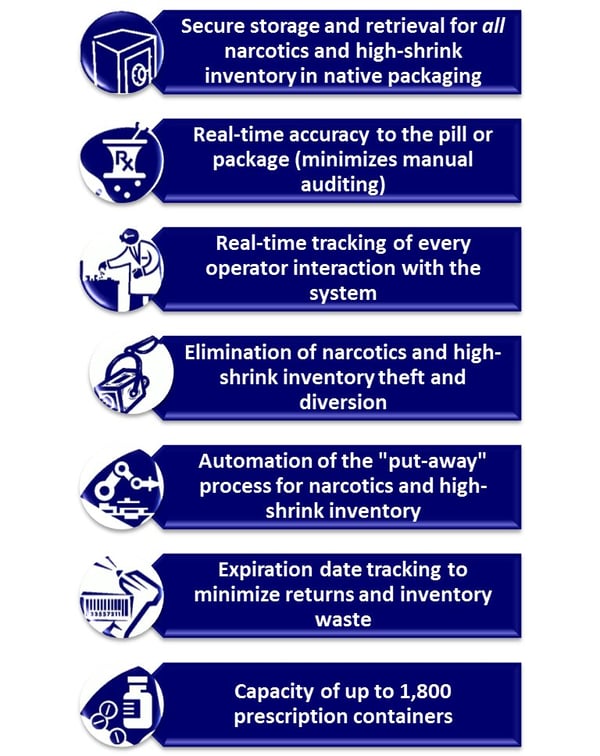 RxSafe Exhibits the RxVault System at the 2011 Society of Air Force Pharmacy Mid Year Meeting
The RxSafe team recently showcased the RxVault System at the Society of Air Force Pharmacy Mid Year Meeting in San Antonio, Texas.
Our Armed Forces customers got a "hands-on" demo of this new application of RxSafe technology. 

More information on the tradeshow can be found here.
We truly appreciate your interest in RxSafe, the RxSafe 1800 System, and the RxVault System. Our team is standing by to field any inquiries, so please feel free to contact us at any time to find out more about our revolutionary robotic pharmacy automation technology.
Sincerely,
Brian Kichler
RxSafe, LLC
P: 858/926-5169
E: bkichler@rxsafe.com
W: www.rxsafe.com