RxSafe has the industry's only item-level tracking solution. But what does that mean? More specifically, how item-level tracking positively impact the quality of patient care and increase profits in your pharmacy? For the answers, keep reading! But first, did you know that item-level tracking is just one of the many features of RxCloud Analytics™? -- a standard feature included with every RxSafe 1800™? RxCloud Analytics is RxSafe's latest innovation in its comprehensive line of pharmacy automation technology.
A brief background about item-level tracking
As you may know, item-level tracking is commonly used in retail applications as a way to tag and scan every product in a store to automatically manage inventory. We have all seen cashiers scan the barcodes at registers, and some of us even scan our own items in the self-checkout aisle.
Now RxSafe has brought this technology to independent retail pharmacy automation.
What item-level tracking means in pharmacies
In the pharmacy industry, item-level tracking means healthier patients and profits. Pharmacies can track drugs right down to exact location on the shelf and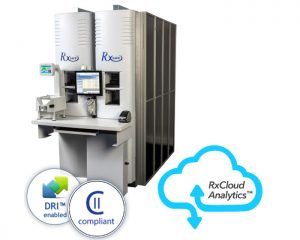 the number of pills in each bottle. (With RxSafe's 1800 system, tracking includes drugs in remote storage locations, even the refrigerator.) Item-level tracking enables pharmacy owners to:
effectively thwart theft and diversion

quickly identify and pull recalls

reduce medication waste from expired drugs

capture cost information for each drug, and

optimize the use and/or distribution of on-hand inventory.
Patient care and safety is the top priority, and costs are controlled at the same time.
More about RxSafe's innovative item-level tracking system
RxCloud Analytics provides accurate, real-time, item-level tracking and it is included with every RxSafe 1800 as a standard feature. Powered by Datarithm, this service provides pharmacy owners with 24/7 cloud-based analytics. That means item-level tracking and wide-range forecasting at your fingertips. With our innovative item-level tracking, on-hand inventory is reduced, inventory turns are improved, and item-level costs are accurately tracked. All of this frees up cash without the chore of cycle counting and other labor-intensive tasks. The item-level tracking data is stored and ready for analysis and reports 24/7, a powerful forecasting tool so that inventory is optimally managed.
It's a simple ROI equation. Inventory turns increase. Costs go down. Profits go up.
"We introduced the RxSafe 1800 into one of our pharmacies two years ago. That store had a $50,000 decrease, which totals $80,000 in savings and our inventory turns have increased by 6+ turns per year." ~Jim Clark, Owner of Paw Paw Pharmacy
More About RxCloud Analytics
With RxCloud Analytics you will gain a more robust inventory control solution in these key areas:
Forecast Dashboard – daily current and forecasted inventory amounts, dispensing pattern breakdowns, current/forecasted customer service levels, deep discount short-date buying opportunities, order alert/cycle fill reminder functionality
Transfer Dashboard – surplus inventory reduction opportunity breakdown
NO Cycle Counting – done automatically and accurately by the RxSafe
Reports Dashboard – comprehensive/sortable inventory list, negative on-hand inventory report, top downward replenishment point suggestions, top wholesaler return recommendations, unusually "high" and "low" usage reports
Advanced Analytics – 24/7 cloud-based access to Inventory Review Wizard (IRW) via reports for every NDC and optional access to cycle counting functionality.
With RxCloud Analytics, your pharmacy can spend time and money on something other than inventory management.
More about RxSafe
Contact us now to see what's in store for you with RxSafe
We would be happy to set up an in-person or online demonstration of the RxSafe 1800. Contact us at (877) 797-2332 or email info@rxsafe.com.