The pandemic has made it more difficult to connect with patients and other independent pharmacists. We truly miss attending trade shows and conferences, because we got to interact with pharmacy leaders from across the country.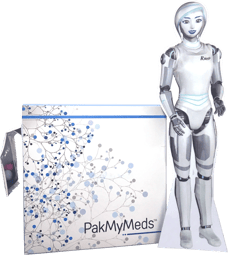 In an effort to foster some connection during the pandemic, and to introduce a little "fun" factor, we would like to invite you to participate in the Rxy Creative Contest!
The Rxy Creative Contest is designed to bring some levity during these challenging times. We will be shipping RxSafe customers a small cardboard cutout of Rxy the Robot. The Rxy cutout is designed to be free standing. The small cutout makes it easy to take Rxy on-the-go.
Here are the rules --
Find a creative/fun place to snap a picture with Rxy the Robot
Post your photo on Facebook, Twitter or Instagram using #RxyTheRobot or just #Rxy
Each post counts as a submission for the monthly drawing
On the last day, one winner will be randomly selected to win a prize
That's it! We are so excited to see where you take your 'flat' Rxy the Robot, and hope you have fun with this challenge. Remember, every post using our hashtags increases your odds of winning the prize!
Our Inspiration -- The Flat Stanley
In case this seems familiar - YES! - RxSafe is "tipping its hat" to one of the most popular and longest lasting social projects -- The Flat Stanley Project. We found inspiration in the simplicity and creativity of this childhood literacy project, and want to inspire our community to remain connected.

All across the world, children participate in mailing their Flat Stanleys to unique places. The recipient would take the Flat Stanley on an adventure, snapping pictures holding up the Flat Stanley against a unique backdrop. Below are some of our favorite Flat Stanley adventures --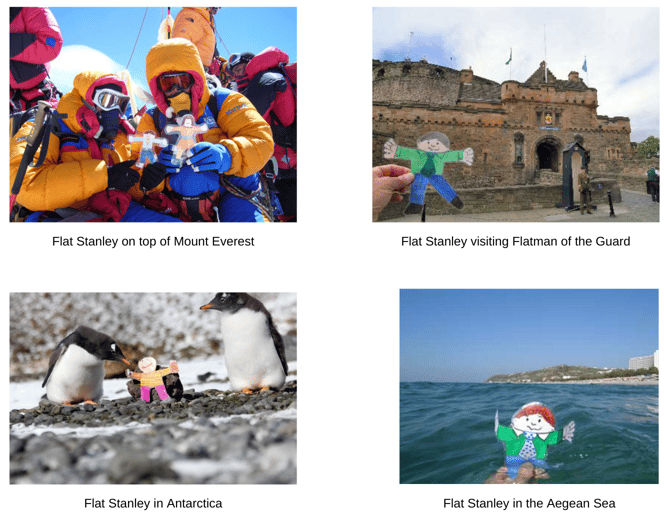 Source: flatstanleyproject.com
Snappin' Pics with Rxy
Your imagination is the only limit. Feel free to get creative in your pharmacy, or snap some pictures of Rxy the Robot around your hometown. You can choose to include yourself in the picture, or feature Rxy alone.
Your pharmacy will receive your free Rxy cutout via mail within 1-2 weeks, so be on the lookout!
We look forward to receiving your submissions and featuring your pictures in a future blog post. Just remember to use the hashtags:
#Rxy
#RxyTheRobot
...and have fun!
The more Rxy pictures you post, the more times you will be entered in the monthly prize drawing! If you have any questions, please contact Belen Yanez at byanez@rxsafe.com.