High demand requires high levels of productivity. Vial-filling robots may be fast, but they can be messy and inaccurate. And, while these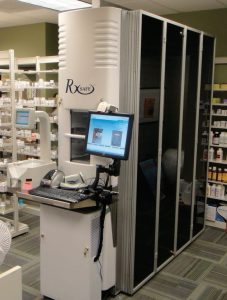 pharmacy robots can help you avoid the tedium of manual vial-filling, they do not help with securing your inventory.

Why Buy Counting Automation That Forces You to Recount?
With current vial-filling robots, for any scheduled medication or high value medication, a pharmacist always double-checks the count. If you can't "count" on your robot, why would you have it at all? The RxSafe 1800 uses machine vision to identify and count every single pill. Not only that, the system features Eyecon®, which can detect broken pills, pill fragments and foreign items. This visual counting system is fast and accurate. Its versatility saves you time and money.

Secure Inventory Built In
Too many vial-filling robots use open cassette storage, which leaves your products open for tampering. If you don't have a pharmacy automation solution that offers a closed and locked inventory system, you could be opening yourself up to lawsuits or drug diversion. The theft prevention built into the RxSafe 1800 not only saves you a significant amount of money, it also saves you time. Vial-filling robots do not eliminate the need to conduct manual inventory on a regular basis. The RxSafe 1800 inventory storage system is updated in real-time, and is so accurate that it has been approved by the U.S. Department of Defense for CII narcotics storage. Can your vial-filling robot say the same?

Tired of the Bottom of Your Robot Being Covered with Pills?
How much expensive inventory do you lose due to missteps from your current vial-filling robot? You know that losing inventory is a significant cost to you, one that must be absorbed. You may think that inventory loss is to be expected when using pharmacy automation; nothing could be further from the truth. The RxSafe 1800 is not just accurate, but also fast. Our customers report that, with the help of RxSafe, their pharmacy techs can fill up to 120 scripts an hour, with unparalleled accuracy. Can your vial-filling robot do that?

Do You Have More Space Than You Need?
The answer to that question is all too often a resounding 'no.' If you are low on space, why choose a vial-filling robot that takes up more space? RxSafe 1800 offers a tower system that can hold thousands of stock bottles. This space saving feature allows you to free up pharmacy floor space for whatever needs you may have, without the costly expense of remodeling.

If you think vial-filling robots are the final answer to pharmacy automation, you are missing out. Contact RxSafe today at 877-797-2332 for a live demonstration at a pharmacy near you.