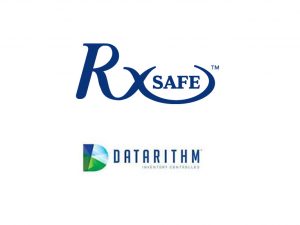 VISTA, Calif. — It is with great anticipation that RxSafe and Datarithm jointly announce a working business alliance between our two companies. RxSafe's real-time perpetual inventory ensures 100% "minute to minute" on-hand accuracy. Datarithm delivers optimized order points and order quantities through advanced forecasting. With accurate on-hands and optimized replenishment points established, surplus inventory is quickly identified. Datarithm's "return to wholesaler" and "store-to-store" transfer recommendations allow pharmacies to attack their daily surplus. Continued use of both RxSafe and Datarithm results in the avoidance of future overstocks and suppresses carry costs. This leads to better cash flow, increased customer service levels, and greater profits.
"We are excited to have a business alliance with RxSafe. Their RxSafe 1800 System, and all that it does, combined with Datarithm's customizable Rx inventory software, and all it does, makes for a very flexible, powerful and automated solution". - Dan Sullivan, VP of Sales & Marketing for Datarithm
"At RxSafe, we are passionate believers in the power of technology to improve service delivery and profitability in pharmacy. When our customers combine Datarithm's sophisticated inventory modeling with RxSafe's proven automated perpetual inventory accuracy, the result is a game-changing model that eliminates cycle-counting, frees up cash, and allows pharmacies to focus on the core business of patient care and services." – William Holmes, President & CEO at RxSafe
---
Datarithm provides pharmacy with value driven inventory control software designed to optimize prescription drug inventories. Founded in 2005, Datarithm is an industry leader for Rx inventory management. Our innovative features include: automated demand forecasting, inventory balancing, cycle counting, and advanced analytics. Datarithm clients enjoy a 20-30% net reduction in Rx inventory levels while simultaneously increasing customer service. Our live reports give instant feedback to make timely inventory decisions. The 100% customizable Datarithm system allows our clients to strike the optimal balance between cash flow and the threat of stock-outs for every drug in every location. Request a free demo at www.datarithm.co
RxSafe is the leader in automated, high-density robotic storage and retrieval technologies for all types of pharmacies. Our flagship RxSafe pharmacy inventory control systems enable pharmacies to take control of their inventory management and prescription fulfillment processes, enhance patent safety, and increase profitability. RxSafe's industry-leading RxASP adherence packaging technology enables pharmacies to custom package patient medications in strips with unprecedented throughput, accuracy, and efficiency, as well as the lowest consumables cost in the industry. For more information, visit https://www.rxsafe.com.