RxSafe has created an innovative model for secure, accurate and efficient retail pharmacy operations. The RxSafe system is the heart of a new storage and retrieval system for bulk prescription drugs in native packaging.
The RxSafe system condenses the entire pharmacy inventory into a 40 sq. ft. secured space, providing convenient access to drugs for efficient prescription filling. The design and functionality of the RxSafe system makes it easy to accurately fill and track prescriptions, manage inventory and eliminate theft, diversion and returns.
By fundamentally changing the workflow process, automating the tracking, storage and retrieval of prescription medication and reducing the amount of retail space required for the pharmacy, the RxSafe system is changing the focus of pharmacy automation.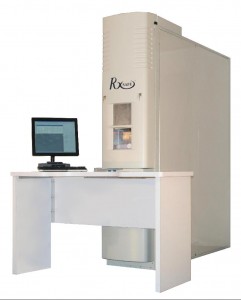 RxSafe Delivers:
- Accurate Prescription Filling
- Accurate On-hand Inventory
- 1/3 Less Fill Labor
- Eliminates Theft and Diversion
- Automates the "Put-Away" Process
- Returns 1/2 of Floor Space to Retail
- Payback in Less Than One Year
- "JIT" Filling (no "Will Call" needed)
- Eliminates Returns
Efficient and Accurate Workflow and Production: The Toyota Way
Toyota has long been recognized as a leader in manufacturing and production methods.
The RxSafe system was developed with many of the same principles of highly efficient, accurate workflow and production for application in the retail pharmacy environment.
The RxSafe system follows the same proven "workstation" methodology as that used effectively in Central Fill operations. RxSafe has created an innovative way to bring this proven technology to retail pharmacy at an affordable price.
RxSafe follows the basic principles, described in Toyota's philosophy, as follows:
1. Base your management decisions on a long-term philosophy, even at the expense of short-term goals.
RxSafe is dedicated to improving pharmacy operations through creating more secure, accurate and efficient retail pharmacy operations.
2. Create continuous process flow to bring problems to the surface.
We do this through providing a high level of visibility to the data of daily operations. The RxSafe data collection and reporting methodology allows pharmacies to see who is operating the machine at all times, evaluate best practices and apply them to improve operations overall.
3. Use "pull" systems to avoid overproduction.
RxSafe has eliminated the need for "Will Call" by allowing JIT filling of prescriptions. This reduces the amount of time and resources that were previously needed to return prescriptions that weren't picked up by customers to the shelf. The system's peak operating capacity exceeds peak demand, using fewer people than the old model of filling prescriptions and avoiding the need for "Will Call" inventory.
4. Build a culture of stopping to fix problems, to get quality right the first time.
The RxSafe system provides complete inventory security and accuracy through accurate real time inventory control. The Pharmacy Technician operating the system returns each stock bottle to the machine after counting out the required number of tablets or capsules to fill a prescription. Once the stock bottle is returned, it is immediately weighed to verify that the pill count is accurate. If there is a discrepancy, the RxSafe system will not allow the Pharmacy Technician to continue filling prescriptions until the discrepancy is addressed and accounted for, then reported. This assures accurate prescription filling and eliminates losses due to theft and diversion.
5. Standardized tasks are the foundation for continuous improvement and employee empowerment.
The RxSafe system is based on standardized, repetitive tasks. By collecting data for each operator in each store, management is able to compare the number of times each operator miscounted, the number of prescriptions filled per hour, and other pertinent data. This allows retailers to determine best practices for the entire organization.
6. Use visual control so no problems are hidden.
The RxSafe computer screen identifies each prescription as its being filled with the name, physical description and a photograph of each tablet or capsule. RxSafe makes visual control easy because only one bottle is accessible and one label is printed at a time.
RxSafe has successfully translated the philosophy of "The Toyota Way" to the pharmacy environment, resulting in highly efficient, accurate and secure pharmacy operations.
The RxSafe Team

RxSafe is brought to you by the same team that created the automated product machine (APM), which enables prescription pickup via self service kiosks. RxSafe was founded by William Holmes, who has devoted much of his professional career to the development and sales of Automated Storage and Dispensing Equipment. Most recently he founded and was President and CEO of Distributed Delivery Networks Corporation (ddn), which was sold to Parata in April 2007.
His prior executive and management responsibilities were as the Founder and CEO of SupplyPro and on management teams of Pyxis and Omnicell. He holds BSME And EMBA degrees and has been granted over 40 U.S. and foreign patents.