We know that independent pharmacy owners are busy running their essential businesses. From filling scripts to offering COVID-19 testing and vaccinations, it's no surprise that some pharmacy owners are not aware of all the new choices to market their strip packaging solution.

At RxSafe we want to make sure that our customers are set up for success. Through the PakMyMeds Network, RapidPakRx pharmacies can get weekly leads and have access to free social media marketing videos, patient testimonials, PowerPoint decks, sample patient letters, and more.

Through the RxSafe ProShop, RapidPakRx customers can easily order marketing collateral to help support their marketing efforts. We've recently added some new products to our shop. Here are some of the new items below:
Mini Flyers

Buttons

Labels

Magnets

Posters

Banners

Social Distance Floor Decals

Face Shields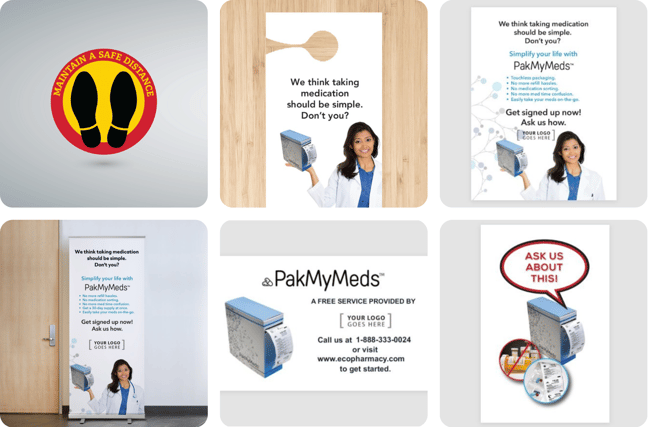 There are many options available to help our RapidPakRx customers meet their marketing goals. There are pre-designed options, or you can also customize many products to meet your needs.

We also offer "Ask Us About This" kits, designed to give your pharmacy marketing collateral to use while patients come in to get their vaccine. The kit includes a poster, a PakMyMeds video, buttons and more.

If you have any questions regarding the PakMyMeds Network or the RxSafe ProShop, please email our PakMyMeds Coordinator, Sydney Stewart, at sstewart@rxsafe.com.