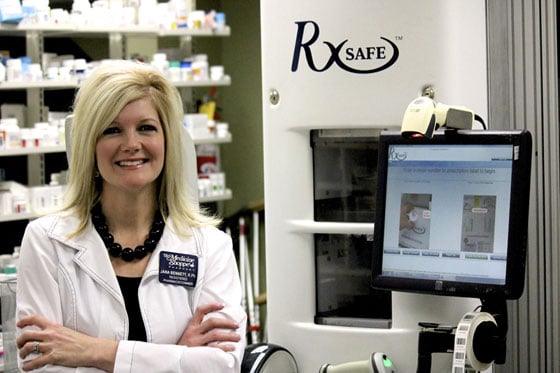 When The Medicine Shoppe in Sherman, Texas began experiencing the growth that most pharmacies want, owner Jana Bennett began looking into pharmacy automation equipment. She knew she needed a solution to keep up with the increased volume of prescriptions to be filled, day in and day out. After significant research into the various options available in the marketplace, Jana Bennett chose the RxSafe 1800 because it addressed Medicine Shoppe's requirements . . . and more.
RxSafe does more for independent pharmacies than simply increasing the number of prescriptions that can be filled.
Not only did the RxSafe 1800 significantly increase the number of prescriptions processed at The Medicine Shoppe – without increasing the number of employees (and payroll) needed for locating and filling – the RxSafe system also provided for secure storage and tracking of drugs. Moreover, accurate and efficient inventory management was another powerful and profitable benefit that Jana's business immediately realized by using the RxSafe 1800.
Why buy automation that handles only 20% of your inventory, when 100% is possible and more profitable?
Watch Jana Bennett's video to learn why she chose RxSafe and how the RxSafe 1800 was the best solution to her pharmacy's automation needs – and so much more.
"We looked at several different pieces of automation, and really everything seemed to focus on the top 50 drugs or top 200 drugs. That's not very practical. We needed to focus on the majority of what we're filling for this to be worth our while. We chose RxSafe over competitors because we felt that it could handle so much more of our volume. When somebody says, "Oh, well, it handles my top 200," I'm thinking that's not really worth our time. The [RxSafe 1800] handles our top 80%, and then the other 20% is managed by a remote station. So, we've got 100% basically going through the 'RxSafe's brains,' if you will. We feel like we have the best bang for our buck."
What does the RxSafe 1800 Inventory Management function do?
The RxSafe 1800 knows exactly where specific drugs are located and the quantity on hand.

It also tracks expiration dates and usage statistics.

P

harmacies realize immediate savings from avoiding expired products and unnecessary carrying costs.

Inventory is tracked in real time, so reordering occurs only as needed.

Remote stock management is a standard feature, so inventory in all locations, even the refrigerator, is tracked.

Inventory turns are increased.
Why not put RxSafe to work for you, too?
As Jana Bennett and other RxSafe customers know, the RxSafe 1800 inventory management function works to save time and resources that equal increased profits for the pharmacy and expanded services for your customers. With RxSafe, you can automate and track virtually your entire inventory.
Call us today at 877-797-2332 to learn more.