RxSafe will be exhibiting at ThoughtSpot 2018 on July 20-21 at Rosen Shingle Creek Resort in Orlando, Florida.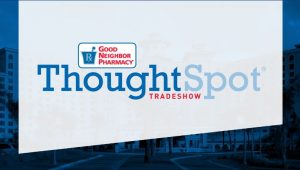 Come see us if you plan to attend the convention, and be sure to stop by Booth #410 so that you can experience the RxSafe 1800™ and RapidPakRx™ systems and how they work first-hand. We'll show you how our technology can boost your pharmacy's profitability, while helping you improve patient care. RxSafe can also free up your employees to spend more time providing customers with the personal attention they crave.
See Our "Profit Machines" in Action
At ThoughtSpot 2018, our team will be demonstrating the RxSafe 1800 and other pharmacy automation solutions. After seeing the RxSafe 1800 in action, you'll learn how it puts cash back in your pharmacy's register. See how independent retail pharmacists like you have recovered their investment in RxSafe in as little as one year! You'll also get a chance to see RapidPakRx, RxSafe's revolutionary adherence packaging automation system, which enables you to run a 30-day med cycle in 10 minutes, "on demand." Simply put, RapidPakRx organizes, dispenses and inspects prescription drugs quickly and accurately, filling multi-med pouches that make it easy for patients to use as directed. Our team can also answer any of your questions in person. We believe there is no better way to get to know our systems than to see them with your own eyes.
Why You Should Attend ThoughtSpot 2018

In addition to getting to know more about RxSafe, ThoughtSpot offers a gathering place for many players in the pharmaceutical industry, catering particularly to independent community pharmacies. You will be able to learn more about "best practices" in the pharmacy business, as well as receive helpful information on how to provide top-notch customer service while also increasing revenue. Congressman Doug Collins (R-GA) is headlining the conference, and Blonde Ambition will be closing out the conference with a party-band concert. If that's not enough, this year's conference takes place in Orlando, an area that is brimming with fun things to see and do. Why not take a few days to both learn and play?
We hope to see you at ThoughtSpot! Come visit us at Booth #410 and meet the team. If you can't make it, be sure to schedule a demo with one of our customers, at a conveniently located pharmacy near you, or call 877-797-2332 for immediate assistance.