Earlier this month, RxSafe announced the launch of a new product designed to protect patients, pharmacists and pharmacy technicians during the novel coronavirus pandemic. With pharmacy staff and patients in mind, RxSafe designed the ViralGuardRx to help reduce the risk of viral and bacterial transmission.
"Pharmacists and pharmacy staff are on the front lines of this fight, encountering high numbers of potentially infectious customers every day," says William Holmes, CEO of RxSafe, "ViralGuardRx not only provides a tool to help keep them healthy, but also helps protect customers."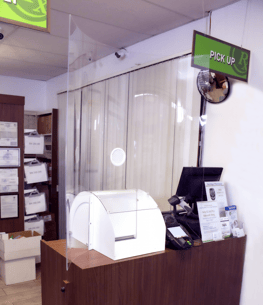 A Patent-Pending Solution
As the spread of COVID-19 continues to grow, businesses across the country are looking for new ways to minimize their risk of infection. Unlike other shields currently on the market, the ViralGuardRx is designed to provide a physical barrier between pharmacy staff and patients, without compromising the level of care and service.
Heritage Pharmacy, based in Palm Springs, California, has been using the ViralGuardRx since early April. "What I like about the ViralGuardRx is that it keeps my patients safe and also my employees safe, so they can work together to maintain a safe distance," says Chandra Patel, owner of Heritage Pharmacy. "In this day and age, with COVID-19, it's very important to protect our staff and our patient at the same time."
The ViralGuardRx is designed to allow clear communication between the pharmacist and patient. The shield includes a specially designed speaking "portal," which facilitates communication and makes it easier for staff and patients to hear each other. The portal aids in the prevention of disease transmission without decreasing audibility. With the traditional plastic shields on the market, communication is often blocked by plexiglass, making it extremely difficult for patients to communicate their needs or hear any important information about their medications.
Not only does the ViralGuardRx provide the best audibility, but it is also designed with a copper-lined transfer port for medications and other products. Copper has been proven to kill bacteria and viruses, such as the coronavirus, minimizing the risk of transmission during an exchange. The transfer port allows pharmacists to safely place the prescriptions into the port which can then be tilted over to the customer's side, preventing the circulation of bacteria to either side.
Protecting Your Pharmacy
"ViralGuardRx allows pharmacy employees to continue providing essential services to our communities by helping to provide the protection they need," says Holmes. "With the ViralGuardRx, independent pharmacies can continue to focus on providing their patients personalized, safer care."
Want to use the ViralGuardRx in your pharmacy? Visit our product page for more information, or call an RxSafe representative at (877) 959-9815.