The team at RxSafe just completed a whirlwind summer tradeshow season, attending 6 tradeshows, with 7 booths, in 8 weeks, including the "big three" wholesaler shows:
Cardinal RBC in San Diego;
McKesson ideaShare in Las Vegas; and
Amerisource ThoughtSpot in Orlando.
Every time we attend a trade show, we come away with lessons learned, plus new info to share with our customers. Here's a brief recap.
Cardinal RBC
The folks at Cardinal put on a great show as usual, and it was fun to exhibit in RxSafe's "backyard" in San Diego, meet Magic Johnson and hear Kelly Clarkson live in concert. Cardinal leadership shared top trends they see impacting community pharmacy today: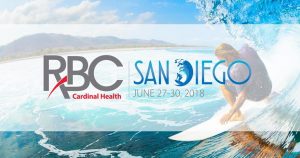 Pharmacist as provider: with the continued physician shortage, pharmacists are stepping up their role as "go to" providers of healthcare services and treatment.

Personalized medicine: as DNA-targeted prescribing grows, tailoring medicines to specific individuals is going to add a lot of value, and complexity, to patient care.

Compliance and adherence: using patient data and programs to make sure patients take the right drug, in the right dose, at the right time. In addition, new adherence technologies are empowering retail pharmacy to compete more effectively.

Consumerism: patients are taking a more active role in self-treatment. That means pharmacists are well positioned to answer questions and advise on OTC medications, vitamins and supplements.
McKesson ideaShare
More than 2,000 pharmacies visited this year's ideaShare conference, which featured focused learning, interactive exhibits, engaging workshops and networking with peers to provide pharmacy owners with the expertise and tools to maximize their clinical, operational and financial performance.
A big focus was Mckesson's recently launched Health Mart Atlas, which is aimed at making managed care easier for community pharmacy by identifying opportunities that are right for their needs. McKesson said it created the Atlas to help community pharmacies address the challenges they face today, including "lower reimbursements, narrow networks, industry consolidation and a general sense of uncertainty."
AmerisourceBergen ThoughtSpot
This year's ThoughtSpot conference promised to feature new programs to "help independent pharmacies strengthen the core of their business and expand their role within their communities." The keynote speech was delivered by Michael Dart, Partner in A.T. Kearney's Consumer Products & Retail Practice, who spoke about changing consumer behavior and values, demographics, and technologies are all impacting the future of pharmacy. U.S. Rep. Doug Collins (R-GA) discussed actions that independent community pharmacists can take to elevate their voice on legislation impacting their ability to provide care.
"We firmly believe that this is an incredible time to be an independent community pharmacy," said Brian Nightengale, RPh, PhD, Sr. Vice President at AmerisourceBergen. "Whether it is expanding their consultative role to meet growing primary care needs or improving population health through drug therapy management, independent pharmacies continue to deliver significant value. We are confident that their role will continue to grow."
RxSafe Lessons Learned
As we spoke to literally thousands of community pharmacists over the past eight weeks, and demonstrated our latest solutions, the RxSafe team couldn't help but notice an overwhelming trend: medication adherence.
That's not surprising, given the size and scope of non-adherence, which results in 125,000 deaths in the US every year, and an estimated $310 billion in healthcare costs.¹
"Adherence is on everyone's mind, and you could see it just by looking at the booth activity," said William Holmes, Founder & CEO of RxSafe. "During exhibit hours we had tradeshow attendees, in some cases 2-3 rows deep, watching us demo our RapidPakRx system, which was expressly designed to help retail pharmacies tackle the adherence problem head-on."
RapidPakRx™ is RxSafe's new automated strip packaging system that enables on-demand adherence packaging production. The RapidPakRx system, with 23 vision systems and three layers of integrated machine vision pill detection, verification, and inspection, can produce a 30-day supply of medication packaging for as little as $5, including labor and materials.
"RapidPakRx enables independent pharmacies to deliver a level of tailored services to patients that Amazon/PillPack and big-chain stores simply cannot," said Holmes. "With this unparalleled automation technology, pharmacies can expand their geographic reach and grow their customer base, while improving customer service and medication adherence at the same time."
To see a demo of the RapidPakRx, contact a sales team member today. Click the links below to learn more about RBC, ideaShare and ThoughtSpot.
Next up: see the RxSafe team at NACDS Total Store Expo, coming up Aug. 25-27 in Denver.
Citations
1. Journal of Managed Care Pharmacy