Dear readers: this month we continue our blog series on business transformation in a community pharmacy setting. Our first article answered the question: "What is pharmacy transformation?" Since then, we've given you snapshots (like this one) of how different pharmacies are transforming their businesses, as well as the health of the communities they serve. Now, here's another story of how Medicine Man Pharmacy and its owner, Terry Perkins, tackled pharmacy transformation through better adherence.
Medicine Man Pharmacy, with three locations in North Little Rock, Arkansas, was founded in 1985 by Hugh and Peggy Perkins. Pharmacist and owner Terry Perkins took over the family business in 2016, after having worked just about every job available there, from sweeping floors to cashier to running payroll.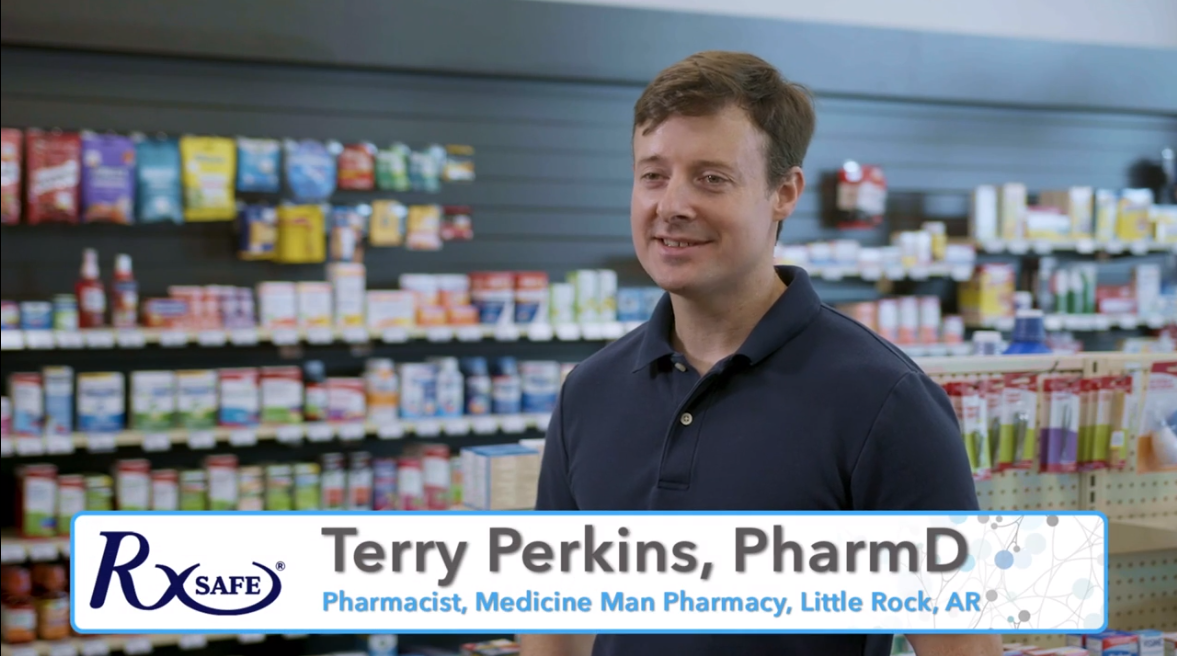 "Before we started on the PakMyMeds program, we had seven patients on our pouch packaging," recalls Perkins. "When RxSafe first introduced the business transformation program to me, I was both relieved and excited, because I needed help."
Prior to working with RxSafe, Perkins' approach was simply to show his existing patients a box with sample candies packaged, and show them how pouch packaging could make taking their medications easier.
Marketing automation to patients via text
Perkins was able to reach more patients using RxSafe-provided software that automates text messaging. Texting his existing customer list and responding to folks who "opted in" helped Medicine Man to start adding new adherence packaging patients every week.
The text messages were really successful, because we had a dashboard that they would pop up on when they agreed, and then I could call on them to set up an appointment to come in the store to have a face-to-face appointment, which I liked the best," says Perkins. "But most of them wound up just being phone call appointments, because they didn't want to come in, and those worked great too."
By adopting the program, Perkins also realized the value of existing patient referrals to generate for word-of-mouth marketing.
"Word of mouth is always the best advertisement, because all of our customers that we have on the PakMyMeds really like it, and so they tell people about it," explains Perkins. "We started out with one lady who wanted her mother's meds packaged, and her mom liked it so much that the daughter began to get her own meds packaged, and now her two children also get their meds packaged."
Appointment-based pharmacy model pays off
Now, the appointment-based pharmacy model is beginning to pay dividends in new ways.
"We're beginning to also offer nutritional consults with our current PakMyMeds customers, and for new customers as well," says Perkins. "That way we can provide supplements to them and add the supplements to their PakMyMeds box."
Perkins says that, with the new services, his pharmacy is becoming better known in the community.
"Overall, it has really helped to build our brand and to help us stand out in our city, because no one else in my town is providing this service," Perkins says. "Our newest pharmacy location has only been open for 10 months. We're in a medical building with several different clinics, and we've had referrals from doctors for their patients who have trouble staying on track with their medications. That's been really helpful. So, our image in the community is one that's forward-thinking and able to provide solutions for a variety of different patients."
Healthy patients = loyal patients
Perkins says that strip packaging has definitely increased patient health and retention.
"I believe the quality of patient care has definitely improved with strip packaging. Our patients who are on it, their adherence is by far way above the rest of our patients, because they want to stay on track," says Perkins. "Not only do patients' caregivers or the patients themselves feel better about knowing they're taking their medication right, but I feel better knowing that they're taking their medication right."
An added bonus for Perkins is that improved adherence has also improved his pharmacy's bottom line.
"My extra profit comes in because the patients are more adherent, so they're going to average two to three more fills a year than my patients who aren't synced up and who aren't packaged," explains Perkins. "Our patients on strip packaging average about seven scripts per month, which is about an extra $100 per month per patient. Currently, with the amount of patients we have on it, it's going to generate an extra $65,000 annually."
More than sync
Perkins says he now understands the benefits of adherence packaging, beyond employing solely a medication synchronization program.
"One thing that I really like about the strip packaging is that it's more than just the sync program," Perkins says. "Sync programs are great, but without adherence packaging, they can really fall short. The adherence packaging really helps patients to stay on track. We can sync them up all day long, but if they're not taking their medicine right, then they're not going to need to pick it up, even though it's their sync date."
Pharmacy transformation is transforming lives
Perkins says he plans to continue adding four to five patients per month to his packaging program, to maintain momentum.
"For other pharmacy owners, if you're offering any kind of medication synchronization program, you need to have some kind of adherence packaging to go along with it," Perkins concludes. "I know that strip packaging has transformed the way our patients take their medications and it's improved their lives."
Is your pharmacy a good candidate for business transformation? Let us know in the comments below, or for more information, call RxSafe at 833-791-1772 and ask for the Business Transformation department.