As RxSafe has begun spreading the news about pharmacy transformation, a lot of pharmacists have asked us: exactly what does that mean?
Great question!
Of course, business transformation is a complex subject, and so the answer is multifaceted. In this blog post, we're going to attempt to answer, from a high-level, what RxSafe means when we say "pharmacy transformation" – in fact, we're going to dedicate this space to a series of blog posts on pharmacy transformation, and talk with pharmacy owners about their specific experiences.
Along the way, we'll share where their pharmacy began, what happened, and where their business stands today. We'll add video, and charts/graphs as needed, to expand on specific details, because we know every pharmacy is unique. So, stay tuned for that. In the meantime, read on!
How did we get here?
Independent pharmacies — like yours — are the lifeblood of our nation's healthcare system. When the Covid-19 crisis hit, pharmacies were on the front lines of the battle, keeping their communities healthy with testing and vital medications. Today, you're leading the effort to immunize millions of Americans. Taken together, 21,683 community pharmacies are the largest privately owned "drugstore chain" in America, representing 35% of all retail pharmacies in the country – bigger than CVS and Walgreens, combined. We salute you!
And yet, independent pharmacies are vulnerable. In 2019, average prescription volume was 57,414 per store, a substantial drop of over 1,000 prescriptions from 2018. Last year, average annual sales were $3.4 million, down from $4 million in 2010. One in eight community pharmacies permanently closed between 2009 and 2015. Independents have long faced competition from mega-corporations and declining reimbursement for the drugs you dispense. But now, you're increasingly fighting PBMs, DIR fees and clawbacks, plus added pressure from Amazon's PillPack and other mail-order services. The pressure isn't likely to ease anytime soon. Something must change.
At RxSafe, we believe the greatest strength of independent pharmacies is your ability to innovate. You are the forward-thinkers, the risk-takers, the folks with a can-do attitude, who roll up your sleeves and just make it work. You already know that the pharmacy of the future is NOT going to look like pharmacies did 10 years ago. You already know that putting pills in vials and charging a dispensing fee is not going to sustain your practice. Those days are gone.
It's about transformation.
As an innovator, you know that to survive and thrive, your pharmacy needs to undergo a transformation. It's not about dispensing more pills, faster. It's not about trimming labor costs. It's not even about technology. We're talking about real change. We're talking about transforming your pharmacy, in three distinct ways:
To benefit your patients – by improving your community's health

To benefit your profession – by practicing at the top of your pharmacy license

To benefit your pharmacy – by building a more sustainable business
At RxSafe, transformation is not just a new buzzword. We are absolutely committed to helping our customers to transform the way they care for patients, to transform the way they practice pharmacy and even to transform their place in the local community. And RxSafe is transforming its own business operations, to better serve independent pharmacies.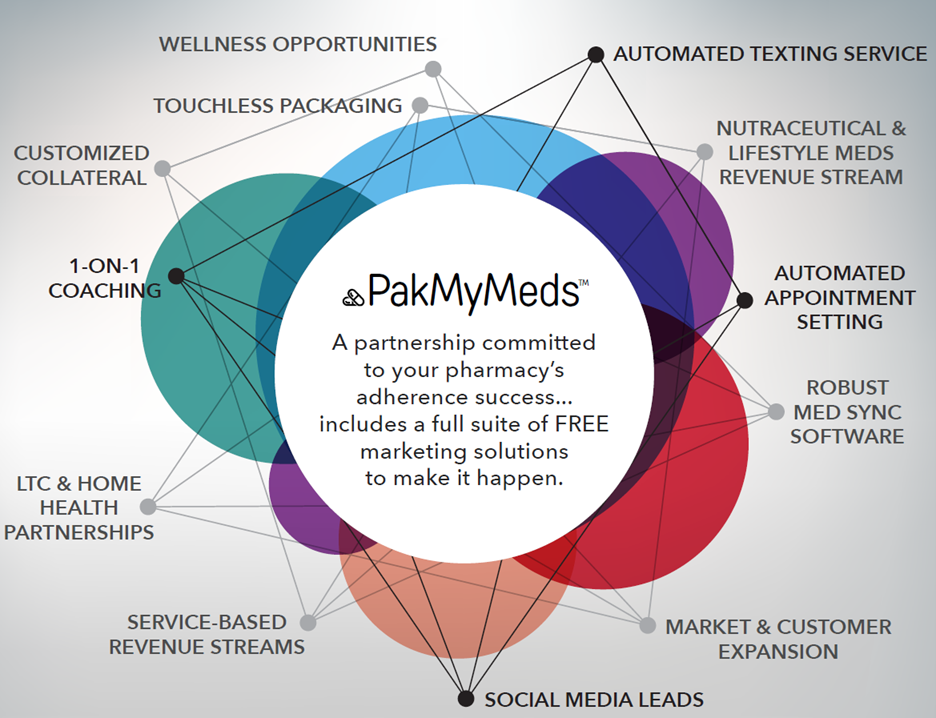 Stronger, together.
As it turns out, the business of pharmacy transformation is a huge job. We want every independent pharmacy in America to transform itself into an even more vital, vibrant and sustainable part of the local community. But we can't do it alone. So RxSafe is enlisting the help of industry partners, to help your pharmacy take advantage of the myriad opportunities to learn and grow together. We can help your pharmacy to:
Master med sync using software

Forge LTC and home health partnerships

Engage patients on social media

Build wellness and service-related revenue

Promote nutraceuticals and supplements

Use AI/automated texting to enhance communication
What's the key?
The key to all this transformation is simple: healthier patients. How do you get healthier patients? In short, by improving their compliance with medications and supplements, when appropriate. And in study after study, the key to better patient compliance is clear: it's a local pharmacist, using adherence packaging.
As a pharmacy owner, you can use adherence packaging to:
Improve patient health and reduce med errors, easing the burden on family members

Differentiate yourself in the market, providing a service others can't

Expand your presence in the local community, by partnering with providers and institutions

Increase script volume, reduce DIR fees, improve reimbursement

Fend off challenges from PillPack, Divvy-Dose and other mail-order pharmacies

Offer supplements to mitigate nutrient depletion, boost immunity, and more

Become the adherence packaging market leader in your local community
In short, whether you have 500 patients or 5,000, moving those patients to adherence packaging doesn't just make good clinical sense, it makes good business sense. Healthier patients are happier patients. They are more loyal patients. And they're more likely to refer their friends and family to your pharmacy.
Why RxSafe is different
Most technology companies (yes, RxSafe is one) want to sell you a "system," typically hardware and software that will automate a task. If you want to buy technology, they're happy to sell you a machine, install it in your store, and then walk away. Then, they focus their energy on finding their next customer.
RxSafe is different. We are transforming our company from a technology vendor into trusted pharmacy partner, focused on improving patient health. What does that look like?
First and foremost, we're doing a 180-degree change in direction. A typical technology vendor wants you to invest in THEM. At RxSafe, we want to invest in YOU. We are transforming our business to become invested in your success. We have the partnerships. We have the tools. We have even created a Business Transformation department to help you every step of the way.
NOT tech. Transformation.
In short, RxSafe is not just a technology vendor. We're a long-term partner who will help you every step of the way, through your pharmacy's transformation. We can't do it alone. We have a lot of partners because transformation is a multi-faceted recipe for success. The only missing ingredient is you.
Okay, so HOW is RxSafe going to do that? Tune in next month, when we'll begin sharing details on specific elements of pharmacy transformation, how it works, and share from specific pharmacy owners who have already embarked on the journey.
Can't wait for next month? Give us a call at 833-791-1772 and ask for the Business Transformation Department.