Pharmacy design can impact everything from profitability to efficiency to overall client satisfaction. Making smart design decisions is one of the best ways that pharmacy owners can boost their bottom line and make running a business easier. Here are five simple pharmacy design changes that can have a big effect on your overall success.
Evaluate Work Processes
The first step to improving pharmacy workflow is to determine what you're doing right —and what's going wrong. Take time to evaluate how work is handled at your pharmacy. Ask yourself: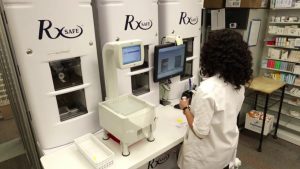 How many steps are required to fill a prescription?
What do customers do while they're waiting for scripts?
What concerns have your employees raised about the workplace?
Knowing the answers to these essential questions will help identify areas where you need to improve. Create a step-by-step action plan that addresses how your pharmacy can improve in each area of concern.
Creating Dedicated Consultation Stations
Consulting with patients is one of the most important duties of any pharmacist. Unfortunately, too many pharmacies rush patients in and out of consultations at one tiny window. Instead of forcing your patients into an uncomfortable bottleneck, create a dedicated consultation area where they can speak to you about their concerns away from other customers. Most clients only need a short consultation, but will appreciate knowing that you're always there to answer their questions.
Choosing the Right Equipment
The right automation can make all the difference in your pharmacy. With a high-powered, intelligent robotic system, you can automate many time-consuming tasks while increasing the security profile of your pharmacy. A system that manages drug storage and inventory can also allow you to cut down on labor hours and reassign employees to more valuable customer service tasks. In addition to improving your workflow, this type of equipment saves floor space by increasing density, eliminating unnecessary inventory and consolidating almost every medication your pharmacy stocks.
Managing Inventory Wisely
Smart inventory management goes hand in hand with choosing good dispensing and packaging systems. An automated dispensing system such as the RxSafe 1800 tracks inventory for you, which means that you don't have to worry about ordering unneeded items or throwing away valuable medications because you didn't use them before they expired. Making smart inventory decisions saves space and money in your pharmacy. It also clears clutter that can frustrate employees and clients alike.
Incorporating New Retail Space
To boost profitability, pharmacy owners need to think beyond just filling prescriptions. Once you've created free space in your shop by installing automation, make the best use of it by creating new revenue opportunities. Whether that means adding MTM, med sync, compounding, immunizations, or creating new retail space, leveraging your existing space is a great way to increase your profits while attracting new customers.
Strong pharmacy design can mean the difference between succeeding in the industry or falling behind the curve. If you're considering a pharmacy redesign, budget your resources wisely. Make your primary goal increasing customer satisfaction and safety, and all the parts of your design plan will fall in place from there. Please give us a call at 877-797-2332 to find out how we can help.