At RxSafe we stay well informed, in a variety of ways, about the latest innovations in pharmacy automation. Whether it's retail and marketing trends or the newest technology products entering the market, we keep abreast of it all, because it means we can provide the best service to our customers. To that end, RxSafe attended the National Association of Chain Drug Stores Total Store Expo in San Diego last August.
Of course, RxSafe's products and support offer complete pharmacy automation solutions that are unparalleled in the industry. The innovation and expertise that go into inventing, fabricating, installing, and supporting our customers' pharmacy automation needs do not happen in a vacuum. We maintain "throughout-the-industry eye contact" with all aspects of our customers' pharmacy operations and needs.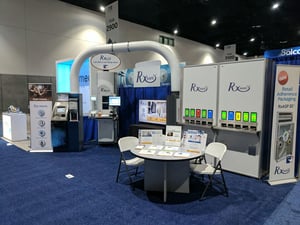 At NACDS Total Store Expo in August, we previewed the latest in consumer-packaged goods, learned about state-of-the-art pharmacy operations, and met with buyers, managers, and other product decision-makers to enhance our span of practical knowledge and experience. We attended educational events on topics such as practice and clinical operations, distribution, packaging, merchandising, and marketing. Professionals from pharmacies, chain drug stores, supermarkets, club stores, big-box stores, small convenience stores, and specialty retailers were in attendance. The opportunity we had to collaborate with a wide variety of trade professionals led to vital sharing of information and inspiration.
Whether you're an independent pharmacy owner or are associated with pharmacy automation in any way, RxSafe would like to hear from you if you have questions or feedback on the cutting edge of pharmacy. Please submit a request or call us at 877-797-2332 at your earliest convenience.There will be many follow-up conversations from the relationships and ideas that developed during this event – all of which will enable us to better serve you!