Trade shows are back.
In contrast to the catastrophic 2020 and tentative 2021 season, 2022 appears to show that interest in in-person events is returning to pre-pandemic levels.
RxSafe attended two major events in Las Vegas in late April and early May, where we showcased our automation technology and talked about how pharmacies can grow their business with adherence packaging.
We would like to thank all guests and association members who attended these shows in April and May for your support and participation.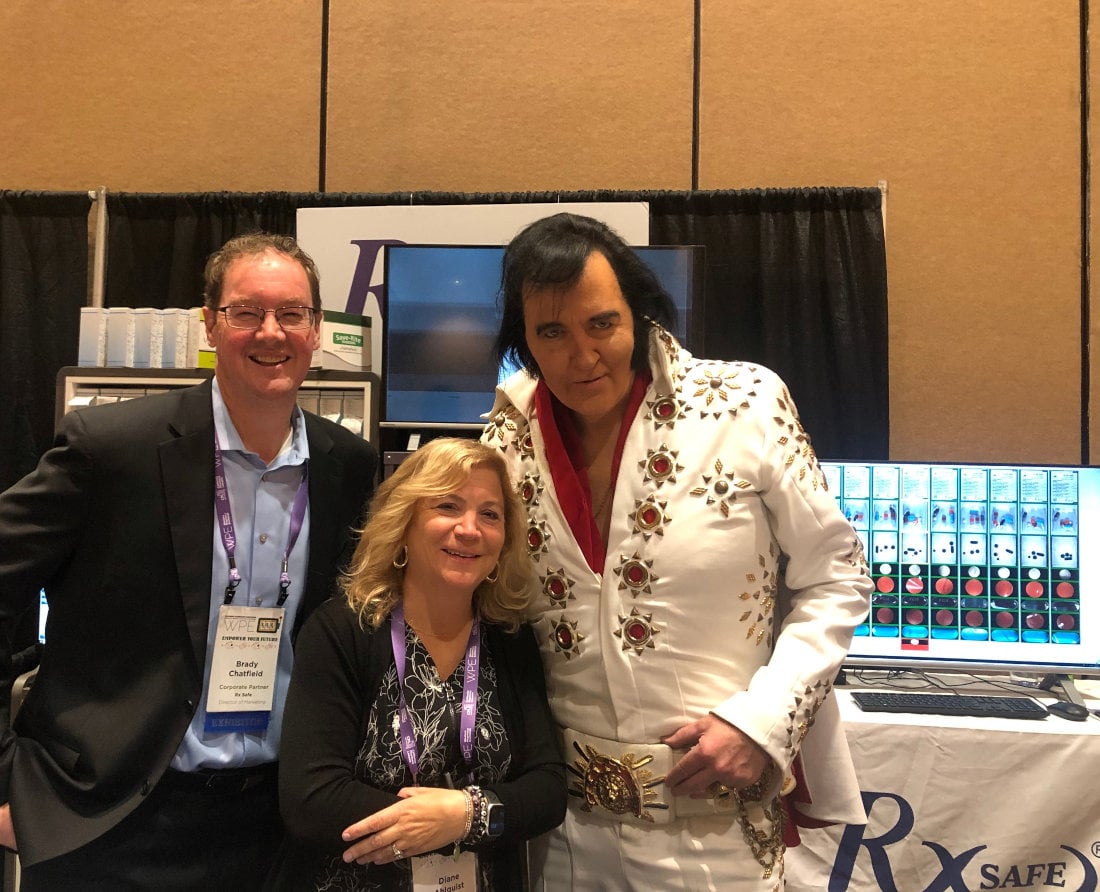 Brady Chatfield and Dianne Ahlquist with "The King" at RxSafe's booth at WPE in Las Vegas
WPE: April 22-24 at

Mandalay Bay
Western Pharmacy Exchange (WPE), presented by the California Pharmacists Association (CPhA), is the largest premier convention for pharmacy professionals on the West Coast.
The show's keynote speakers were California Right Meds Collaborative Founder and Director Steven Chen and USC Iovine and Young Director of Challenge-Based Learning Matthew Manos, who talked about creating disruptive ideas during uncertain times.
Continuing education sessions during the three-day show included talks on professional engagement in pharmacy, implementation of clinical services in specialty pharmacies, and empathy in patient care.
RxSafe's Director of Marketing, Brady Chatfield, and West Coast Regional Sales Director, Dianne Ahlquist, were at the Mandalay Bay with the RapidPakRx adherence packaging system.
A highlight of the show was the WPE Product Theater, where Chatfield talked about how pharmacies can grow their business through adherence packaging.
Todd Eury of the Pharmacy Podcast Network emceed at the Exhibit Hall and conducted a special interview with Dr. Ken Thai, pharmacist, and past president of the CPhA.
Asembia: May 2-5 at the Wynn & Encore, Las Vegas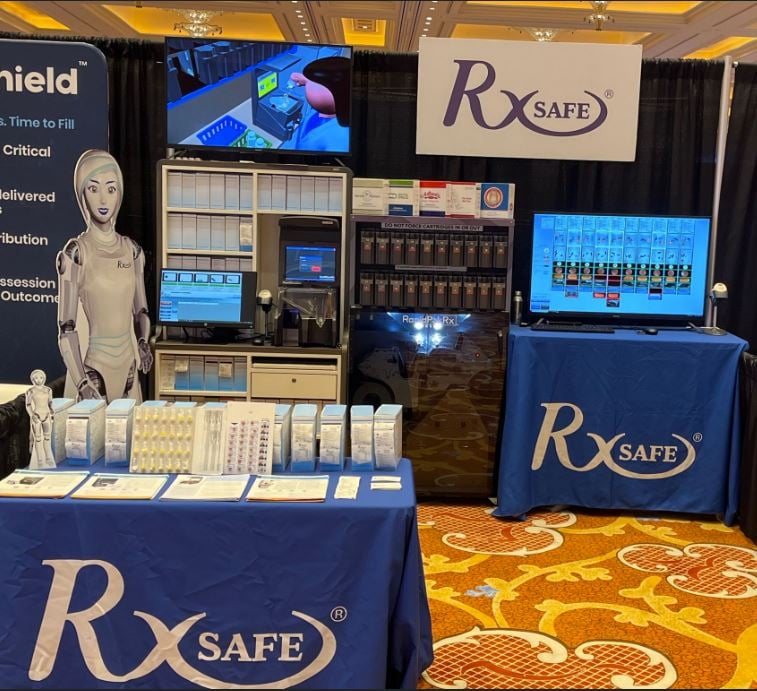 RxSafe's booth displaying the RapidPakRx at Asembia
Asembia is the premier specialty pharmacy conference. The conference saw some 6,000 attendees from pharmacies, biotechnology firms, technology companies, drug wholesalers, and health systems.
RxSafe's founder and CEO Bill Holmes and Business Transformation expert Matt Gilbert attended the show and gave demonstrations of the RapidPakRx pouch packaging system.
This year's keynote speakers were Scott Gottlieb, former FDA (Food and Drug Administration) Commissioner, and Drug Channels CEO Adam Fein, who talked about the state of the healthcare industry and what trends are shaping specialty pharmacy.
While expecting COVID to eventually become endemic like the seasonal flu, Gottlieb discussed the lessons learned from COVID-19 and its new variants, citing the lack of public health infrastructure for the failure of the nation's response to the crisis.
Throughout the special sessions and presentations at the show, the issues that stood out included:
Vertical integration - While streamlining operations and partnerships continue in the specialty pharmacy industry, current trends have developed where providers are joining hospitals and health systems.

PBMs – Pharmacy benefits managers still control over 70% of the specialty pharmacy market and the top four PBMS are earning more than half of all dispensing revenues from the specialty market.

340B Drug Pricing Program – The 340B program gives substantial discounts to hospitals and

pharmacies,

but

has cast a negative light on drug manufacturers who have removed these discounts.
Preparation for Asembia 2023 is already underway. For more information about upcoming trade shows, please visit our Events page.